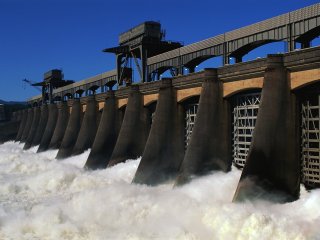 Description
Objectives
Outline
Materials
System Requirements
Watch a Demo
This Renewable Energy Specialist course addresses the main characteristics of the emerging generation of technologies which will be employed to provide energy for the power grid over the next 20 years. This course covers solar energy in its various forms, such as photovoltaic, thermal and thermodynamic energy conversion, taking into account the various issues associated with the connection of these solar plants to the grid. We will also cover wind technologies, wave power and geothermal energies. This Renewable Energy Specialist course is a must for anyone interested in moving into the field of green energy. 
Prerequisite(s): Solid knowledge of math and sciences
After completing this course, you should be able to:
Define the core elements of photovoltaic systems and solar energy
Identify features of wind system energy and technologies
Recognize energy systems based on water and geothermal production
List the main features of biofuels and bioenergy technologies
Recall various energy systems, their efficiency and other factors of influence
Renewable Energy Specialist Module 1
Principles of Renewable Energy and Solar Radiation
Energy and Sustainable Development
Technical Implications
Standards and Regulations
Atmospheric Transmission, Absorption and Reflection
Extraterrestrial Solar Radiation
Components of Radiation
Measuring Solar Radiation
Site Estimation of Solar Radiation
Greenhouse Effect and Climate Change
Renewable Energy Specialist Module 2
Solar Water Heating and Thermal Applications
Calculation of Heat Balance: General Remarks
Flat-plate Collectors
Selective Surfaces
Instrumentation and Monitoring
Social and Environmental Aspects
Air Heaters
Crop Driers
Water Desalination
Solar Salt-Gradient Ponds and Solar Concentrators
Fuel and Chemical Synthesis from Concentrated Solar
Renewable Energy Specialist Module 3
Photovoltaic (PV) Power Technology and Hydropower
Photovoltaic Circuit Properties
Applications and Systems
Maximizing Cell Efficiency
Types and Adaptations of Photovoltaics
Social, Economic and Environmental Aspects
Assessing the Resource Hydropower
Impulse and Reaction Turbines
Hydroelectric Systems
Pumped Hydro Storage
Renewable Energy Specialist Module 4
Wind Resource and Wind Power Technology
World Wind
Characteristics of the Wind
Wind Instrumentation, Measurement and Computational Tools and Prediction
Turbine Types and Terms
Linear Momentum and Angular Momentum Theories
Blade Element Theory
Power Extraction by a Turbine
Electricity Generation
Mechanical Power
Renewable Energy Specialist Module 5
Photosynthesis and Bioenergy Technologies
Trophic Level Photosynthesis
Photosynthesis at the Cellular and Molecular Level
Energy Farming: Biomass Production for Energy
R&D to 'improve' Photosynthesis
Biofuel Classification
Direct Combustion for Heat
Anaerobic Digestion for Biogas
Wastes and Residues
Biodiesel from Vegetables and Algae
Renewable Energy Specialist Module 6
Wave Power and Tidal-Current and Tidal-Range Power
Wave Motion, Energy and Power
Real (Irregular) Sea Waves: Patterns and Power
Energy Extraction from Devices
Wave Power Devices
The Cause of Tide
Enhancement of Tides
Tidal-Current/Stream Power
World Tidal Power Sites
Renewable Energy Specialist Module 7
Ocean Gradient and Geothermal Energy
Ocean Thermal Energy Conversion (OTEC)
Practical Considerations about OTEC
Devices
Related Technologies
Osmotic Power from Salinity Gradients
Geophysics
Dry Rock and Hot Aquifer Analysis
Ground-Source Heat Pumps
Renewable Energy Specialist Module 8
Energy Systems and Energy Efficiency 
Distribution Technologies
Electricity Supply and Networks
Comparison of Technologies for Energy Storage
Energy Storage for Grid Electricity
Batteries and Fuel Cells
Energy End-Use by Sector
Energy-Efficient Solar Buildings
Transport
Manufacturing Industry
Domestic Energy Use 
Renewable Energy Specialist Module 9
Institutional and Economic Factors
Socio-Political Factors
Economics
Life Cycle Analysis
Policy Tools
Quantifying Choice
Present Status of Renewable Energy
The Way Ahead
**Outlines are subject to change, as courses and materials are updated.**
Ed4Career is committed to being both environmentally conscious and making it easier for you to study! We're making your education mobile! All of our textbooks are now provided as eTextbooks. You can access them on your laptop, tablet, or mobile device and can study anytime, anywhere.
The move away from physical books to eTextbooks means you get the latest, most up-to-date version available. This also makes your training more accessible, so you can study anywhere you have your phone or tablet. The best part is that all materials are included in your training cost so there are NO extra fees for books!
Internet Connection
Broadband or High-Speed - DSL, Cable, and Wireless Connections
*Dial-Up internet connections will result in a diminished online experience. Classroom pages may load slowly and viewing large audio and video files may not be possible.
Hardware Requirements
Processor - 2GHz Processor or Higher
Memory - 1 GB RAM Minimum Recommended
PC Software Requirements
Operating Systems - Windows 7 or higher
Microsoft Office 2013 or higher. Also, you could use a general Word Processing application to save and open Microsoft Office formats (.doc, .docx, .xls, .xlsx, .ppt, .pptx)
Internet Browsers - Google Chrome is highly recommended


Cookies MUST be enabled
Pop-ups MUST be allowed (Pop-up Blocker disabled)

The Kindle Reader App or VitalSource Bookshelf App are needed for many of our courses (No special equipment needed. This can be downloaded for FREE onto your computer.)
PowerPoint Viewer (if you do not have PowerPoint)
QuickTime, Windows Media Player &/or Real Player
MAC Software Requirements
Operating Systems - Mac OS x 10 or higher with Windows
Mac office programs or a Word Processing application to save and open Microsoft Office formats (.doc, .docx, .xls, .xlsx, .ppt, .pptx)
Internet Browsers- Google Chrome is highly recommended


Cookies MUST be enabled
Pop-ups MUST be allowed (Pop-up Blocker disabled)

The Kindle Reader App or VitalSource Bookshelf App are needed for many of our courses (No special equipment needed. This can be downloaded for FREE onto your computer.)
PowerPoint Viewer (if you do not have PowerPoint)
Adobe PDF Reader
Apple QuickTime Media Player