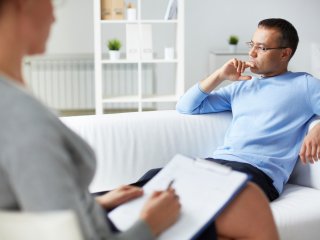 Description
Objectives
Outline
Materials
Certification
System Requirements
Watch a Demo
Drug and Alcohol Counseling Level 2 is a comprehensive course for people who want to work with the chemically dependent and addicted in a variety of treatment settings. This course shows the student how to use the best evidence-based treatments available, including motivational enhancement, cognitive behavioral therapy, skills training, medication and 12 step facilitation. Guiding the student step-by-step through treatment, this course presents state-of-the-art tools, and forms and tests necessary to deliver outstanding treatment and to meet the highest standards demanded by accrediting bodies.
Prerequisite(s): Drug and Alcohol Counseling Level 1
After completing this course, you should be able to:
List the steps for initial assessment and treatment planning
Recall various therapies and treatment groups available
Recognize the steps involved in the AA 12 step program
Identify dual diagnosis and family treatment programs
Define clinical staff and characteristics of a good counselor
Drug and Alcohol Counseling 2 Module 1
Counseling: The Initial Hours
How Treatment Works
The Motivational Interview
Natural History of Addiction
How to Assess Motivation
First Hours of Treatment
How to Greet Clients
Beginning the Therapeutic Alliance
Dealing with Early Denial
How Clients React to Detoxification
Diagnosis: Substance Use Disorder
Drug and Alcohol Counseling 2 Module 2
Biopsychosocial Interview and Treatment Plan
How to Conduct the Interview
Summary and Impression
Disposition and Treatment Plan
How to Build a Treatment Plan
How to Develop Objectives
How to Develop Interventions
How to Evaluate the Effectiveness of Treatment
How to Select Goals, Objectives, and Interventions
Treatment Plan Review
How to Write Progress Notes
Drug and Alcohol Counseling 2 Module 3
Individual Treatment and Group Therapy
The Therapeutic Alliance
How to Be Reinforcing
Behavior Therapy
Cognitive Therapy
Interpersonal Therapy
Benefits of a Group Process
The Agenda Group
The Relapse Prevention Group
The Spirituality Group
The Childhood Group
Drug and Alcohol Counseling 2 Module 4
Drugs of Abuse and Recovery Skills
Central Nervous System Depressants
Alcohol
Opioids
Hallucinogens
Synthetic Designer Drugs
Cannabis
Nicotine
The Chemical Use History
Love, Trust, and Commitment
Addictive Relationships
Self-Discipline
Stress Management
Drug and Alcohol Counseling 2 Module 5
12 Step Program and Lectures
The Committee
How to Help Clients Accept a Higher Power
The Disease Concept
Defense Mechanisms
The Great Lie
Normal Development
Physical Addiction and Recovery
Alcoholics Anonymous
Meetings
Drug and Alcohol Counseling 2 Module 6
Special Problems and Adolescent Treatment
The Psychiatric/Psychological Assessment
The Depressed Client
The Angry Client
Personalities
The Borderline Client
The Narcissistic Client
The Anxious Client
Puberty
Group Therapy
Peer Pressure
Drug and Alcohol Counseling 2 Module 7
The Family Program and The Clinical Staff
The First Family Contact
Common Family Problems
How to Treat Family Members
Psychologist/Psychiatrist
Social Workers
Nurses
Staff-Client Problems
Clinical Staffing
Drug and Alcohol Counseling 2 Module 8
Continuing Care and Good Counselors
Outpatient Discharge Criteria
Inpatient Discharge Criteria
How to Develop a Discharge Summary
The Discharge Summary
Aspects of Good Counseling
**Outlines are subject to change, as courses and materials are updated.**
Ed4Career is committed to being both environmentally conscious and making it easier for you to study! We're making your education mobile! All of our textbooks are now provided as eTextbooks. You can access them on your laptop, tablet, or mobile device and can study anytime, anywhere.
The move away from physical books to eTextbooks means you get the latest, most up-to-date version available. This also makes your training more accessible, so you can study anywhere you have your phone or tablet. The best part is that all materials are included in your training cost so there are NO extra fees for books!
Upon successful completion of our Drug and Alcohol Counseling Level 1 and Level 2 courses, students may be prepared, in part, to sit for licensing and credentialing exams. Each state has its own regulations.
Internet Connection
Broadband or High-Speed - DSL, Cable, and Wireless Connections
*Dial-Up internet connections will result in a diminished online experience. Classroom pages may load slowly and viewing large audio and video files may not be possible.
Hardware Requirements
Processor - 2GHz Processor or Higher
Memory - 1 GB RAM Minimum Recommended
PC Software Requirements
Operating Systems - Windows 7 or higher
Microsoft Office 2013 or higher. Also, you could use a general Word Processing application to save and open Microsoft Office formats (.doc, .docx, .xls, .xlsx, .ppt, .pptx)
Internet Browsers - Google Chrome is highly recommended


Cookies MUST be enabled
Pop-ups MUST be allowed (Pop-up Blocker disabled)

The Kindle Reader App or VitalSource Bookshelf App are needed for many of our courses (No special equipment needed. This can be downloaded for FREE onto your computer.)
PowerPoint Viewer (if you do not have PowerPoint)
QuickTime, Windows Media Player &/or Real Player
MAC Software Requirements
Operating Systems - Mac OS x 10 or higher with Windows
Mac office programs or a Word Processing application to save and open Microsoft Office formats (.doc, .docx, .xls, .xlsx, .ppt, .pptx)
Internet Browsers- Google Chrome is highly recommended


Cookies MUST be enabled
Pop-ups MUST be allowed (Pop-up Blocker disabled)

The Kindle Reader App or VitalSource Bookshelf App are needed for many of our courses (No special equipment needed. This can be downloaded for FREE onto your computer.)
PowerPoint Viewer (if you do not have PowerPoint)
Adobe PDF Reader
Apple QuickTime Media Player