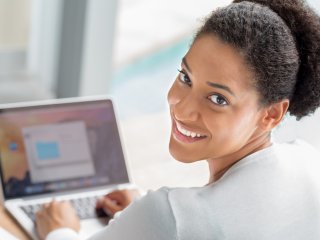 Category:
Business Management, CCTP Programs
Course Type:
Mentor Supported
Self-Study
Instructor Led - 4 Weeks Long
Description
Objectives
Outline
Materials
Certification
System Requirements
Watch a Demo
Our Complete Career Training Programs (CCTP) include both the training you need and the skills you will want in order to be prepared for your new career. We have taken online career programs to a whole new level by bundling our Career Training with Personal Enrichment courses to ensure you have a diversified learning experience.
Our mentor-supported career courses focus on the industry standards that prepare you for your chosen career or certification. You will also get our smaller, four-week long, instructor-led personal enrichment courses to further your employment training.
Sign up today for this all-inclusive career training program!
QuickBooks® Pro
To succeed in small business, you need great ideas, an entrepreneurial spirit, and competitive products or services. And one other thing: a good accounting system like QuickBooks. With our course you will learn how to track your sales and expenses all in one place and get reliable records for tax time. This QuickBooks course shows you how to use this popular business finance program to gain a clear view of your finances and keep your business in the black. Our course will help you make your bookkeeping workflow smoother and faster. Students will receive step-by-step instructions on how and when to use specific features, along with basic accounting advice to guide you through the learning process of QuickBooks 2022.
NOTE: This course does NOT include the QuickBooks program itself. Students will need to have QuickBooks 2022 already installed on their computers.
Prerequisite: None
Professional Bookkeeping
Are you well organized? Do you like working with official papers and enjoy seeing a set of figures add up properly? If so, Professional Bookkeeping could be the career for you! Every business, no matter how large or small, must "keep books" and as organizations increase and financial regulations become stricter, there is a greater demand for Professional Bookkeepers. Our Professional Bookkeeping course will cover the multitude of areas that a bookkeeper may address during the work day - how to handle payroll, purchases, billings, cash, fixed assets, inventory, and create financial statements.
Prerequisite: None
Administrative Assistant
As an office professional, you only have to do one thing: everything! And there never seems to be enough time to do it all, much less learn how. But if you really want to ramp up your job performance – and add value to your employer – you need to take this Administrative Assistant course. This course offers an almost endless supply of savvy advice, great tips, proven tools, and powerful strategies for dealing with both everyday job responsibilities and requirements.
So whether you're brushing up your skills, keeping up with new developments in business, increasing your own marketability, or just starting a challenging and rewarding career, this comprehensive course is just the right thing to move your career forward!
Prerequisite: None
Start Your Own Bookkeeping Business
Have you ever dreamed of starting your own Bookkeeping business? Many years ago Benjamin Franklin said, "There is nothing certain in life except death and taxes." This is still true today. According to the laws of the Internal Revenue Service, businesses "must keep adequate accounting records." This course will help guide you through the process of starting and growing your business. First we will cover the initial steps to starting your business from choosing a name to selecting the type of entity and more. Marketing your business is key and in this course, you will learn how to utilize social media and important aspects of your branded website. Other topics include developing a clientele list, legal and ethical issues and other resources - all geared to helping you build the successful business of your dreams.
* You have 4 weeks to complete this course from date of your enrollment.
** Course Subject to Change.
Microsoft Excel® 2019
Microsoft Excel 2019 is a powerful tool you can use to create and format spreadsheets so you can more easily analyze data, share information, and make more informed decisions. With our Microsoft Excel 2019 course, you will learn how to create rich data visualization, PivotTable views, professional-looking charts, print media, hyperlinks, and worksheet web pages.
* You have 4 weeks to complete this course from date of your enrollment.
** Course Subject to Change.
QuickBooks® Pro
After completing this course, you should be able to:
List the basics for getting started with QuickBooks
Define the steps for completing daily entry tasks
Recognize the steps to print checks, process taxes, process payroll and track expenses
Identify the steps for creating and printing reports, invoicing, file management, and backing up information
Describe steps for creating charts for tracking actual spending, income, inventory, assets, and liabilities
Professional Bookkeeping
After completing this course, you should be able to:
Identify the daily tasks and procedures involved with bookkeeping
Define inventory systems and the steps needed to issue financial statements
Recall the methods for managing credits and collections
List the steps involved in accounts payable and recordkeeping
Describe the fundamentals of mastering internal controls and fraud prevention
Administrative Assistant
After completing this course, you should be able to:
Identify general office tasks and procedures
Recognize types of office equipment and computer programs used in business
Describe the fundamentals of working with a team, communication skills and developing presentations
Recall record keeping procedures
Identify the basic requirements for bookkeeping and accounting in the office
Start Your Own Bookkeeping Business
After completing this course, you should be able to:
Identify various challenges in starting a bookkeeping business
Recall methods and techniques for setting up a bookkeeping business
List strategies to use in a marketing campaign
Define client management techniques and recognize financial considerations for starting a business
Microsoft Excel® 2019
After completing this course, you should be able to:
List the basic range functions in Microsoft Excel 2019
Identify the correct use of formulas, worksheets, and workbooks
Recall how to create professional looking charts, tables, and graphics
Recognize how to import, use, and analyze data
QuickBooks® Pro
QuickBooks Pro Module 1
An Accounting Primer
Principles of Accounting
Double-Entry Bookkeeping
Accounts Receivable
Inventory Accounting
Recording Accounts Payable Transactions
Accounting for Fixed Assets
Recognizing Liabilities
Closing Out Revenue and Expense Accounts
QuickBooks Pro Module 2
Setting Up QuickBooks
Planning Your New System
Installing QuickBooks
QuickBooks Setup Wizard
Identifying the Starting Trial Balance
Loading the Master File Lists
Setting Up QuickBooks Preferences
Specifying Reports and Graphs
QuickBooks Pro Module 3
Bookkeeping Basics
Invoicing Customers
Recording Sales Receipts and Credit Memos
Paying Vendors
Paying Bills
Tracking Inventory and Items
Managing Cash and Bank Accounts
Reconciling Bank Accounts
Setting Up Payroll
Paying Employees
QuickBooks Pro Module 4
Accounting Chores
Working with QuickBooks Journal Entries
Reviewing the Accountant and Tax Reports
Preparing Financial Statements and Reports
Preparing a Budget
Using Activity-Based Costing
Setting Up Project and Job Costing Systems
QuickBooks Pro Module 5
Financial Management
Ratio Analysis
Liquidity and Leverage Ratios
Activity and Profitability Ratios
Economic Value-Added Analysis
Capital Budgeting
Measuring Liquidity
Thinking About Risk
QuickBooks Pro Module 6
Business Plans
Profit-Volume-Cost Analysis
Calculating Break-Event Points
Creating a Business Forecast
Reviewing Financial Statements and Ratios
Using the Business Plan Workbook
Writing a Business Plan
Strategic Plans
QuickBooks Pro Module 7
Administering QuickBooks and Protecting Data
Keeping Data Confidential
Using Audit Trails
Simultaneous Multiuser Access
Backing Up the QuickBooks Data File
Restoring a QuickBooks Data File
Condensing the QuickBooks Company Files
Troubleshooting
**Outlines are subject to change, as courses and materials are updated.**
Professional Bookkeeping
Professional Bookkeeping Module 1
Setting Up Your Accounting System
Bookkeeping and Accounting Basics
Chart of Accounts
Debits vs. Credits
Double-Entry Accounting
Using Journal Entries and Ledgers
Choosing an Accounting Method
Cash and Accrual Basis
Employee Payroll and Benefits
Computing and Reporting Payroll Taxes
Professional Bookkeeping Module 2
Recording Accounting Transactions
Business Transactions
Managing Bookkeeping and Accounting System
End-of-Period Procedures
Tracking Purchases
Tracking Inventory
Buying and Monitoring Supplies
Counting Your Sales
Accounts Receivable
Professional Bookkeeping Module 3
Adjusting and Closing Entries
Depreciating Your Assets
Paying and Collecting Interest
Proving Out the Cash
Closing Cash Journals
Reconciling Accounts and Closing Journal Entries
Checking Your Accuracy
Working with Trial Balance
Developing a Financial Statement Worksheet
Adjusting the Books
Professional Bookkeeping Module 4
Preparing Income Statements and Balance Sheets
Origins of Accounting Standards
Understanding the Nature of Profit
Preparing Income Statements Related to Profit
Assessing the Balance Sheet's Asset Section
Accounting for Liabilities
Keeping Current Liabilities Under Control
Capital Stock
Coupling the Income Statement and Balance Sheet
Professional Bookkeeping Module 5
Reporting on Financial Statements
Clarifying the Values of Assets in Balance Sheets
Introducing Business Valuation
Cash Flows and Changes in Equity
Difference Between Cash and Profit
Analyzing Financial Statements
Explanatory Notes and Disclosures
Reports to Shareholders
Professional Bookkeeping Module 6
Planning and Budgeting for Business
Incorporating Your Business
Choosing a Legal Structure for a Business
Outlining a Basic Business Plan
Budgeting Basics
Budgeting with Cash or Accrual Accounting
Long-Term Obligations
Professional Bookkeeping Module 7
Business Decisions
Estimating Costs with Job Costing
Performing Activity-Based Costing
Examining Contribution Margins
Accounting for Change with Variance Analysis
Smart Pricing Decisions
Financial Formulas
Professional Bookkeeping Module 8
Cash and Purchasing
Identifying Costs and Matching Costs with Revenue
Satisfying the Matching Principle
Inventory Cost Flow Assumptions
Inventory Types
Incremental and Opportunity Costs
Interpreting Financial Results
Reviewing Profit and Earnings
Maximizing Business Value
Professional Bookkeeping Module 9
Auditing and Detecting Financial Fraud
Sarbanes-Oxley Regulation
Preventing Cash Losses from Embezzlement and Fraud
Assessing Audit Risk
Collecting and Documenting Audit Evidence
Auditing a Client's Internal Controls
Five Components of Internal Controls
Common Fraud Schemes
Financial Statement Fraud
**Outlines are subject to change, as courses and materials are updated.**
Administrative Assistant
Administrative Assistant Module 1
Typing Practice & Improvement
Pre-Test Your Typing Ability
Finger Positioning Exercises
Typing Practice Games
Typing Progress Tracking
Improve Your Typing Skills
Increase Your Typing Speed
Administrative Assistant Module 2
The Workplace
Office Administrative
Employer Expectations
Employer/Employee Responsibilities
What is a Professional?
Your Professional Image
Business Etiquette
Administrative Assistant Module 3
Working Ethically
Goals and Accountability
Workstation Organization
Managing Workload
Life Management
Ethics: The Basics
Characteristics of Ethical Organizations
Making Ethical Choices
Working Ethically
Administrative Assistant Module 4
Developing Customer Focus
Teams at Work
Team Process
Contributing to the Team
Effective Teams and Team Challenges
Customer Focus
Customer Strategies
Customer Service Skills
Handling Difficult Situations
Administrative Assistant Module 5
Communication Skills
The Communication Process
Listening Skills
Verbal and Nonverbal Communication Skills
Written Communication Skills
Global Communication
Workplace Collaboration Tools
Telecommunications
Security Issues
Administrative Assistant Module 6
Presentations and Planning
Planning and Researching Presentations
Writing Presentations
Developing and Using Visual Aids
Practice and Delivering Presentations
Types of Meetings
Meeting Formats
Meeting Responsibilities
Administrative Assistant Module 7
Records Management
Value of Records
Storage Supplies, Equipment, Media
Records Storage Systems
Filing Procedures
Filing Procedures for Electronic Records
Preparing and Sending Outgoing Mail
Handling Incoming Mail
Administrative Assistant Module 8
Business Travels and Financials
Domestic Travel
International Travel
Cultural Differences
Travel Procedures
Financial Statements
Employee Payroll
Financial Forms and Transactions
Bank Reconciliation
Administrative Assistant Module 9
Career Success
Job Seeking
Job Interview Skills
Job Advancement and Changes
Leading and Managing
Leadership Traits
Leadership Styles
Leading People
**Outlines are subject to change, as courses and materials are updated.**
Start Your Own Bookkeeping Business
Start Your Own Bookkeeping Business Module 1
Start-Up Considerations
People start their own businesses for a variety of reasons. What is your motivation for starting your own home-based business? Balancing work and family can be somewhat challenging, but with your dedication, vision and knowledge of how to successfully run a business, you will succeed. This module will take you through starter business challenges and methods to use in your new bookkeeping business.
How the Industry Has Changed
Why Be a Home-Based Business?
Balancing Work and Family
What is Your Vision for the Business
Methods to Get Started
Start Your Own Bookkeeping Business Module 2
Setting Up Your Business
Module two will offer tips and suggestions in how to write your business plan. Additionally, we will go through the sequence of steps needed to establish your business identity. Setting up your home office is key to an organized and successful home business. In this module, we will discuss some ideas as to how to set up your home office. We will also explore some of the key technology items to consider when getting started.
Tools and Resources for Writing the Plan
Establish Your Business Identity
Marketing Materials
Set Up Your Home Office
Technology: Computer, Software, and Other Equipment
Start Your Own Bookkeeping Business Module 3
Training, Experience and Marketing
In module three, we will look at what you can do to help your business stand out from the crowd. Bookkeeping certification could be just what you need to advance your business. We will discuss the career outlook for bookkeepers and the differences in certification types. Today, businesses heavily rely on social media and only marketing to advertise their brand. In this module, we will discuss strategies to use in your marketing campaign.
Bookkeeper Certification
Your Brand
Contact List for Marketing
Your Website
Online Marketing and Social Media
Start Your Own Bookkeeping Business Module 4
Financial Considerations and Client-Management
Module four will focus on the financial considerations and client management areas of your business. Part of our focus will be on billing policies and terms and how to easily manage accounts. We will share what type of software available to you to help with this process. The last part of module four will go over the regulations for preparing taxes and how to follow the boards of accountancy in your state.
Billing Policies and Terms
Manage Accounts Receivable and Collections
Client-Acceptance and Retention Policies
Systems and Procedures
State Boards of Accountancy and Regulations for Tax Professionals
Microsoft Excel® 2019
Microsoft Excel® 2019 Module 1
Working with Ranges
In Excel, a range is a group of two or more cells that work together rather than separately. The range is the basic function that makes Excel a powerful tool, and it is discussed in this module. We start by learning how to fill a range with values, move or copy them, and insert or delete them. After that we discuss range names and how to use them. We conclude by discussing how to format fonts, colors, alignments, numbers, column widths, row heights, and other range options.
Excel's Ribbon User Interface
Data Entry
Cell Formatting
Working with Columns
Editing Workbooks
Microsoft Excel® 2019 Module 2
Getting Organized
Once a range is populated and formatted, it's time to do something with that data. In this module we discuss how to change page orientation, view your pages in Page Layout view, and how to print all or just some of your worksheets. We move on to discuss how to maintain and manipulate the worksheet, which is where you spend most time in Excel, then you will learn how worksheets and workbooks go together. We describe how to name your cells, find and replace information, and how to categorize and maintain multiple worksheets.
Previewing Pages
Printing
Maintaining the Worksheet
Multiple Worksheets
What-If Analyses
Microsoft Excel® 2019 Module 3
Tables, Charts, and Graphics
Once you have your workbooks and worksheets created, it's time to do something useful with your new tools. In this module we first discuss the purpose and multiple uses of Pivot tables. Then we dive into the basics of creating professional looking charts and graphics. Finally, we discuss how to set up and work with data lists in Excel, as well as how to link, automate, and share spreadsheets.
Pivot Tables
Working with Charts and Graphics
Creating Data Lists
Linking, Automating, and Sharing Spreadsheets
Microsoft Excel® 2019 Module 4
Using and Analyzing Data
In the last module of this course, we explore the do's and don'ts of working with Excel and we discover important skills required to use Excel successfully. We also discuss how to manage and maintain loads of data and we identify trends in your data.
Beginner Basics
Commandments of Excel
Managing Data
Analyzing Data
Ed4Career is committed to being both environmentally conscious and making it easier for you to study! We're making your education mobile! All of our textbooks are now provided as eTextbooks*. You can access them on your laptop, tablet, or mobile device and can study anytime, anywhere.
The move away from physical books to eTextbooks means you get the latest, most up-to-date version available. This also makes your training more accessible, so you can study anywhere you have your phone or tablet. The best part is that all materials are included in your training cost so there are NO extra fees for books!**
*A few courses still have physical materials.
 
QuickBooks® Pro
Upon successful completion of this course, students will be prepared to sit for the Intuit QuickBooks certification exam.
Professional Bookkeeping
Upon successful completion of our Professional Bookkeeping course, students will be prepared, in part, to sit for the AIPB Certified Bookkeeper exam. Candidates must also submit proof of at least two years of full time or 3,000 hours of part-time work experience before or after taking the exam. Candidates have 3 years from the exam date to fulfill this requirement.
Administrative Assistant
Upon successful completion of our Administrative Assistant course, students will be prepared for an entry-level job as an Administrative Assistant in an office setting and to sit for the NCCB national certification exam to become a Certified Administrative Assistant (CAA).
** Certification exams are not included in the cost of the course.**
Internet Connection
Broadband or High-Speed - DSL, Cable, and Wireless Connections
*Dial-Up internet connections will result in a diminished online experience. Classroom pages may load slowly and viewing large audio and video files may not be possible.
Hardware Requirements
Processor - 2GHz Processor or Higher
Memory - 1 GB RAM Minimum Recommended
PC Software Requirements
Operating Systems - Windows 7 or higher
Microsoft Office 2013 or higher. Also, you could use a general Word Processing application to save and open Microsoft Office formats (.doc, .docx, .xls, .xlsx, .ppt, .pptx)
Internet Browsers - Google Chrome is highly recommended

Cookies MUST be enabled
Pop-ups MUST be allowed (Pop-up Blocker disabled)

The Kindle Reader App or VitalSource Bookshelf App are needed for many of our courses (No special equipment needed. This can be downloaded for FREE onto your computer.)
PowerPoint Viewer (if you do not have PowerPoint)
QuickTime, Windows Media Player &/or Real Player
MAC Software Requirements
Operating Systems - Mac OS x 10 or higher with Windows
Mac office programs or a Word Processing application to save and open Microsoft Office formats (.doc, .docx, .xls, .xlsx, .ppt, .pptx)
Internet Browsers- Google Chrome is highly recommended

Cookies MUST be enabled
Pop-ups MUST be allowed (Pop-up Blocker disabled)

The Kindle Reader App or VitalSource Bookshelf App are needed for many of our courses (No special equipment needed. This can be downloaded for FREE onto your computer.)
PowerPoint Viewer (if you do not have PowerPoint)
Adobe PDF Reader
Apple QuickTime Media Player