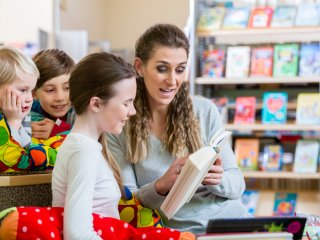 Course Type:
Instructor Led - 4 Weeks Long
Description
Objectives
Outline
Materials
System Requirements
Children are all different, with unique strengths and weaknesses. Educators and parents must remember that when working with children with Attention Deficit Hyperactivity Disorder (ADHD). Our Teaching Children with ADHD course discusses the basic structure of ADHD and various executive functions. We describe how to properly communicate with children and how to address challenging behaviors. We also explore how to help children set achievable goals and gain perseverance.
* You have 4 weeks to complete this course from date of your enrollment.
** Course Subject to Change.
After completing this course, you should be able to:
Recall the characteristics of attention deficit hyperactivity disorder
Identify the basics of executive functions and communication challenges
Recognize techniques for collaboration and stress reduction
Describe steps for intentional goal setting
Teaching Children with ADHD Module 1  
Beyond the Basics
ADHD is considered a neurodevelopmental disorder of the brain's self-management system. Our first module discusses the basics of ADHD so you can gain an understanding of how to view and interact with your students. We also explore the importance of exercise and movement while learning.
Is it Attention Deficit?
Is ADHD on the Rise?
Stop the Fidgeting
Let Them Move
What Can Be Part of ADHD?
Teaching Children with ADHD Module 2
Executive Functions and Communication
In this module we describe the concepts of executive function and how it impacts learning, behavior, and motivation. Executive functioning challenges sometimes go hand in hand with communication challenges. We explore how to model and teach proper communication skills.
Intelligence and Executive Functions
Flexible Thinking
Educating Parents
Communication Challenges
Modeling and Teaching Communication
Teaching Children with ADHD Module 3
Collaboration and Stress Reduction
What factor causes students to act out the most? We address some potential answers to this question in this module, as well as techniques for dealing with challenging behaviors. We also discuss the impact of stress on teachers and students and ways to cope with it.
Dealing with Challenging Behaviors
Building Skills for Systemic Change
Problem Solving
Impact of Stress, Managing, and Reducing
Neuroscience of Stress
Teaching Children with ADHD Module 4
Grit and Goal Setting
In order to help students develop grit and perseverance, we must first address potential challenges that some students face in learning. Our final module discusses these challenges, as well as how to engage students in their own learning by setting intentional goals.
Helping Students Develop Grit and Perseverance
What is Your Mindset?
Why Is Goal Setting Important?
Intentional Goal Setting
Steps for Achieving Goals
Ed4Career is committed to being both environmentally conscious and making it easier for you to study! We're making your education mobile! All of our textbooks are now provided as eTextbooks. You can access them on your laptop, tablet, or mobile device and can study anytime, anywhere.
The move away from physical books to eTextbooks means you get the latest, most up-to-date version available. This also makes your training more accessible, so you can study anywhere you have your phone or tablet. The best part is that all materials are included in your training cost so there are NO extra fees for books!
Internet Connection
Broadband or High-Speed - DSL, Cable, and Wireless Connections
*Dial-Up internet connections will result in a diminished online experience. Classroom pages may load slowly and viewing large audio and video files may not be possible.
Hardware Requirements
Processor - 2GHz Processor or Higher
Memory - 1 GB RAM Minimum Recommended
PC Software Requirements
Operating Systems - Windows 7 or higher
Microsoft Office 2013 or higher. Also, you could use a general Word Processing application to save and open Microsoft Office formats (.doc, .docx, .xls, .xlsx, .ppt, .pptx)
Internet Browsers - Google Chrome is highly recommended


Cookies MUST be enabled
Pop-ups MUST be allowed (Pop-up Blocker disabled)

The Kindle Reader App or VitalSource Bookshelf App are needed for many of our courses (No special equipment needed. This can be downloaded for FREE onto your computer.)
PowerPoint Viewer (if you do not have PowerPoint)
QuickTime, Windows Media Player &/or Real Player
MAC Software Requirements
Operating Systems - Mac OS x 10 or higher with Windows
Mac office programs or a Word Processing application to save and open Microsoft Office formats (.doc, .docx, .xls, .xlsx, .ppt, .pptx)
Internet Browsers- Google Chrome is highly recommended


Cookies MUST be enabled
Pop-ups MUST be allowed (Pop-up Blocker disabled)

The Kindle Reader App or VitalSource Bookshelf App are needed for many of our courses (No special equipment needed. This can be downloaded for FREE onto your computer.)
PowerPoint Viewer (if you do not have PowerPoint)
Adobe PDF Reader
Apple QuickTime Media Player