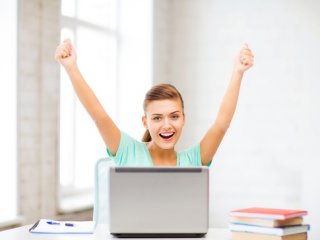 Course Type:
Instructor Led - 4 Weeks Long
Description
Objectives
Outline
Materials
System Requirements
As a person with unique gifts to offer, it is your responsibility to use your talents wisely and it is your right to enjoy yourself while doing so. In this class we will learn what it takes to develop career-enhancing skills that include: goal setting, time management, and personal organization. You will learn the crucial steps it takes to improve your creative abilities, gain confidence and minimize conflict in your life. Just as a successful business requires a mission and a plan, so does a fulfilling life.
* You have 4 weeks to complete this course from date of your enrollment.
** Course Subject to Change.
After completing this course, you should be able to:
Define what a strategic plan is and why you need one
Recall potential success factors in life 
Recognize how to implement goals and follow through on accomplishing them
Identify how to select and implement successful strategies
Personal Excellence Module 1
Your Mission and Vision in Life
In week one, we will learn what a strategic plan is and why you need one in your life. We will also go over the finding your main purpose in life and how to take the steps to reaching that goal of success.
Life Strategic Plan
Why Have a Strategic Plan
Find Your Purpose
Your Personal Mission
Your Vision of Success
Personal Excellence Module 2
Success Factors in Life
This week we will look at what it is that you need in order to succeed. So many times we are pulled way and distracted by menial things and our success is deferred.
Critical Success Factors
Finding Your Strengths
Finding Your Weaknesses
Finding Your Opportunities
Finding Your Threats
Personal Excellence Module 3
Steps to Success
What goals would you like to set for yourself? This week we will study how we can implement goals and follow through on accomplishing them. We will touch on time management and how happiness is sometimes left out of our daily schedules.
Setting Goals
SMART Goals
Time and Emotions Study
Time Management
What Makes You Happy
Personal Excellence Module 4
Creating Your Simplementation Plan
In our final week we will discuss how to select our successful strategies and how to implement them. We will also go over what happens when you are overwhelmed, or feel like there isn't enough time – there are strategies to help overcome these obstacles. Finally, we will learn how to create our own Simplementation plan and apply it to everyday life.
Selecting Successful Strategies
Implementing Strategies Into a Plan
How to Prioritize
Overcoming Obstacles
How to Create a Simplementation Plan
Ed4Career is committed to being both environmentally conscious and making it easier for you to study! We're making your education mobile! All of our textbooks are now provided as eTextbooks. You can access them on your laptop, tablet, or mobile device and can study anytime, anywhere.
The move away from physical books to eTextbooks means you get the latest, most up-to-date version available. This also makes your training more accessible, so you can study anywhere you have your phone or tablet. The best part is that all materials are included in your training cost so there are NO extra fees for books!
Internet Connection
Broadband or High-Speed - DSL, Cable, and Wireless Connections
*Dial-Up internet connections will result in a diminished online experience. Classroom pages may load slowly and viewing large audio and video files may not be possible.
Hardware Requirements
Processor - 2GHz Processor or Higher
Memory - 1 GB RAM Minimum Recommended
PC Software Requirements
Operating Systems - Windows 7 or higher
Microsoft Office 2013 or higher. Also, you could use a general Word Processing application to save and open Microsoft Office formats (.doc, .docx, .xls, .xlsx, .ppt, .pptx)
Internet Browsers - Google Chrome is highly recommended


Cookies MUST be enabled
Pop-ups MUST be allowed (Pop-up Blocker disabled)

The Kindle Reader App or VitalSource Bookshelf App are needed for many of our courses (No special equipment needed. This can be downloaded for FREE onto your computer.)
PowerPoint Viewer (if you do not have PowerPoint)
QuickTime, Windows Media Player &/or Real Player
MAC Software Requirements
Operating Systems - Mac OS x 10 or higher with Windows
Mac office programs or a Word Processing application to save and open Microsoft Office formats (.doc, .docx, .xls, .xlsx, .ppt, .pptx)
Internet Browsers- Google Chrome is highly recommended


Cookies MUST be enabled
Pop-ups MUST be allowed (Pop-up Blocker disabled)

The Kindle Reader App or VitalSource Bookshelf App are needed for many of our courses (No special equipment needed. This can be downloaded for FREE onto your computer.)
PowerPoint Viewer (if you do not have PowerPoint)
Adobe PDF Reader
Apple QuickTime Media Player