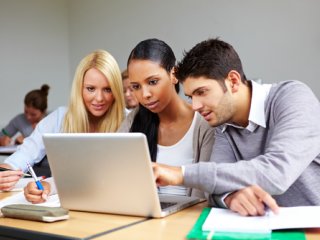 Course Type:
Instructor Led - 4 Weeks Long
Description
Objectives
Outline
Materials
System Requirements
Microsoft Office Excel® 2016 is a powerful tool you can use to create and format spreadsheets so you can more easily analyze data, share information, and make more informed decisions. Excel 2016 has much of the functionality and features seen in previous versions, but with several new features and enhancements such as new chart types, the ability to import from outside sources, one-click forecasting, 3-D mapping, and more.  You will learn how to create rich data visualization, PivotTable views, professional-looking charts, print media, hyperlinks, and worksheet web pages.
* You have 4 weeks to complete this course from date of your enrollment.
** Course Subject to Change.
After completing this course, you should be able to:
List the basic range functions in Microsoft Excel 2016
Identify the correct use of formulas, worksheets, and workbooks
Recognize how to import, use, and analyze data
Recall how to create visual aids and collaboration
Microsoft Excel® 2016 Module 1
Working with Ranges
In Excel, a range is a group of two or more cells that work together rather than separately.  The range is the basic function that makes Excel a powerful tool, and it is discussed in this module. We start by learning how to fill a range with values, move or copy them, and insert or delete them.  After that we discuss range names and how to use them.  We conclude by discussing how to format fonts, colors, alignments, numbers, column widths, row heights, and other range options.
Selecting and Populating Ranges
Moving, Inserting, and Deleting Ranges and Cells
Merging Two or More Cells
Using Touch Gestures
Using and Defining Range Names
Navigate the Workbook
Microsoft Excel® 2016 Module 2
Formulas, Worksheets, and Workbooks
Once a range is populated and formatted, it's time to do something with that data.  In this module we discuss how to build formulas and incorporate Excel worksheet functions into your formulas.  We move on to discuss how to manipulate the worksheet, which is where you spend most time in Excel, then you will learn how worksheets and workbooks go together. We conclude by discussing how to format the look and feel of workbooks.
Creating Excel Formulas
Using Excel Functions
Troubleshooting Formula Errors
Navigating and Using Worksheets
Formatting and Customizing Worksheets
Creating and Using Workbooks
Formatting and Customizing Workbooks
Microsoft Excel® 2016 Module 3
Using and Analyzing Data
Once you have your workbooks and worksheets created, it's time to do something useful with your new tools.  In this module we first discuss how to import data into your worksheets to create useful information.  Next you will learn how to create printed copies of this information to share with others, and then we discuss how Excel is used to store and use non-numeric information in tables.  We conclude by discussing how to use Excel to analyze your captured information.
Formatting Workbook Colors, Fonts, and Effects
Applying Workbook Themes, Headers, and Footers
Importing Data from Another Application
Configuring and Printing Workbooks
Understanding Tables
Using and Editing Tables
Creating a PivotTable
Microsoft Excel® 2016 Module 4
Visual Aids and Collaboration
Creating a visual representation of your data makes it easier for you and others to both understand and analyze it.  This module discusses how to create custom graphs and charts using the data in your worksheets, including how to add graphic objects like shapes, clip art, pictures, WordArt, and SmartArt images. We then discuss how to collaborate with others using Excel, such as adding comments, sharing a workbook, and working on a spreadsheet online.
Chart Elements and Types
Creating and Editing a Custom Chart or Graph
Changing Chart Source Data
Creating and Formatting Worksheet Graphics and Images
Protecting and Sharing Workbooks
Saving Excel Data as A Web Page
Collaborate Online in Excel
Ed4Career is committed to being both environmentally conscious and making it easier for you to study! We're making your education mobile! All of our textbooks are now provided as eTextbooks. You can access them on your laptop, tablet, or mobile device and can study anytime, anywhere.
The move away from physical books to eTextbooks means you get the latest, most up-to-date version available. This also makes your training more accessible, so you can study anywhere you have your phone or tablet. The best part is that all materials are included in your training cost so there are NO extra fees for books!
Internet Connection
Broadband or High-Speed - DSL, Cable, and Wireless Connections
*Dial-Up internet connections will result in a diminished online experience. Classroom pages may load slowly and viewing large audio and video files may not be possible.
Hardware Requirements
Processor - 2GHz Processor or Higher
Memory - 1 GB RAM Minimum Recommended
PC Software Requirements
Operating Systems - Windows 7 or higher
Microsoft Office 2013 or higher. Also, you could use a general Word Processing application to save and open Microsoft Office formats (.doc, .docx, .xls, .xlsx, .ppt, .pptx)
Internet Browsers - Google Chrome is highly recommended


Cookies MUST be enabled
Pop-ups MUST be allowed (Pop-up Blocker disabled)

The Kindle Reader App or VitalSource Bookshelf App are needed for many of our courses (No special equipment needed. This can be downloaded for FREE onto your computer.)
PowerPoint Viewer (if you do not have PowerPoint)
QuickTime, Windows Media Player &/or Real Player
MAC Software Requirements
Operating Systems - Mac OS x 10 or higher with Windows
Mac office programs or a Word Processing application to save and open Microsoft Office formats (.doc, .docx, .xls, .xlsx, .ppt, .pptx)
Internet Browsers- Google Chrome is highly recommended


Cookies MUST be enabled
Pop-ups MUST be allowed (Pop-up Blocker disabled)

The Kindle Reader App or VitalSource Bookshelf App are needed for many of our courses (No special equipment needed. This can be downloaded for FREE onto your computer.)
PowerPoint Viewer (if you do not have PowerPoint)
Adobe PDF Reader
Apple QuickTime Media Player