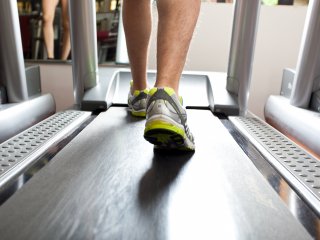 Course Type:
Instructor Led - 4 Weeks Long
Description
Objectives
Outline
Materials
System Requirements
Have you ever felt like it shouldn't be so hard to lose a little bit of weight?  Are you tired of trying diet after diet, trend after trend to not produce any results?  Sometimes it takes a little more to get that stubborn fat off.  Fat is not a cushion or insulation, but an energy reserve and our Lose Weight and Keep It Off course will help you identify how tap into your store of energy and correct the problem. Our course will examine the basics of metabolism for various body types that you can use immediately in the effort of losing weight and keeping it off.  This course is not for those who can lose weight easily, but for those who have a very stubborn metabolism.  
* You have 4 weeks to complete this course from date of your enrollment.
** Course Subject to Change.
After completing this course, you should be able to:
Recognize the relationship between body type and how this affects fat burning and weight loss
Identify the various body type categories and recall characteristics of each
Recall the initial steps in fat burning and enhancing your metabolism
List meal plans and exercise for your body type
Lose Weight & Keep It Off Module 1
The Relationship Between Fat Burning and Body Type
Many people have been trying to lose weight with various diet and exercise programs.  Module one examines the purpose of food and the vital substances necessary to the body.  Also included in module one is a study of dieting versus a healthy diet.  Lose Weight and Keep It Off is based on seven key principles which are discussed in this module.  Module one also covers the study of hormones and how they affect individual body shapes, and how to regulate body fat based on the characteristics of each body type. 
The 7 Principles of Fat Burning
Hormones
Body Shape
Body Types
Finding Your Body Type
Lose Weight & Keep It Off Module 2
A Closer Look at Body Types
Module two is a study of the four main body types, based on hormone production.  A careful look at the characteristics of the adrenal, ovary, thyroid, and liver types will allow for the determination and science behind the weight gain locations of each body type. 
A Closer Look at Body Types
The Adrenal Type
The Ovary Type
The Thyroid Type
The Liver Type
Lose Weight & Keep It Off Module 3
Initial Steps in Fat Burning
Module three addresses the two basic types of problems with weight that need to be addressed: fat and water weight.  A study of how to avoid these problems and take action to support hormone health is included in module three.  Also included in this module is direction on the first step, liver enhancement, to take for all body types in getting the body ready for fat burning.  Finally, module three will examine the strategies to use in determining the types of food each body type needs to include in their daily diet.
Fat-burning Triggers
Fat-burning Blockers
Liver Enhancement
What to Eat
What Not to Eat
Lose Weight & Keep It Off Module 4
Meal Plans and Exercise for Your Body Type
Once body type is determined and the initial steps for fat burning have begun, it is important to continue eating for that specific body type. Module four will study the menu options for each of the body types.  It is hard to burn fat with changing diet alone.  This module culminates with the appropriate types of exercise needed target stubborn body fat for each of the four body types.    
Liver Meal Plans
Thyroid Meal Plans
Adrenal Meal Plans
Ovary Meal Plans
Exercising for Your Body Type
**Outlines are subject to change, as courses and materials are updated.**
Ed4Career is committed to being both environmentally conscious and making it easier for you to study! We're making your education mobile! All of our textbooks are now provided as eTextbooks. You can access them on your laptop, tablet, or mobile device and can study anytime, anywhere.
The move away from physical books to eTextbooks means you get the latest, most up-to-date version available. This also makes your training more accessible, so you can study anywhere you have your phone or tablet. The best part is that all materials are included in your training cost so there are NO extra fees for books!
Internet Connection
Broadband or High-Speed - DSL, Cable, and Wireless Connections
*Dial-Up internet connections will result in a diminished online experience. Classroom pages may load slowly and viewing large audio and video files may not be possible.
Hardware Requirements
Processor - 2GHz Processor or Higher
Memory - 1 GB RAM Minimum Recommended
PC Software Requirements
Operating Systems - Windows 7 or higher
Microsoft Office 2013 or higher. Also, you could use a general Word Processing application to save and open Microsoft Office formats (.doc, .docx, .xls, .xlsx, .ppt, .pptx)
Internet Browsers - Google Chrome is highly recommended


Cookies MUST be enabled
Pop-ups MUST be allowed (Pop-up Blocker disabled)

The Kindle Reader App or VitalSource Bookshelf App are needed for many of our courses (No special equipment needed. This can be downloaded for FREE onto your computer.)
PowerPoint Viewer (if you do not have PowerPoint)
QuickTime, Windows Media Player &/or Real Player
MAC Software Requirements
Operating Systems - Mac OS x 10 or higher with Windows
Mac office programs or a Word Processing application to save and open Microsoft Office formats (.doc, .docx, .xls, .xlsx, .ppt, .pptx)
Internet Browsers- Google Chrome is highly recommended


Cookies MUST be enabled
Pop-ups MUST be allowed (Pop-up Blocker disabled)

The Kindle Reader App or VitalSource Bookshelf App are needed for many of our courses (No special equipment needed. This can be downloaded for FREE onto your computer.)
PowerPoint Viewer (if you do not have PowerPoint)
Adobe PDF Reader
Apple QuickTime Media Player