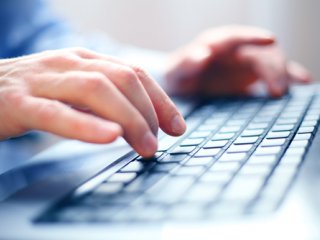 Course Type:
Instructor Led - 4 Weeks Long
Description
Objectives
Outline
Materials
System Requirements
Leave hunt-and-peck to the chickens. Effective and efficient keyboarding is more than tapping the correct letter. Our course teaches you to react to letters instead of finding them on the keyboard. This breakthrough guide brims with step-by-step exercises for keyboarding with ease. Develop your digital dexterity with our Keyboarding Basics course. 
* You have 4 weeks to complete this course from date of your enrollment.
** Course Subject to Change.
After completing this course, you should be able to:
List ways to become familiar with the keyboard layout
Identify correct techniques for keyboarding and ways to improve skills
Recognize different styles of text
Recall how to keyboard for personal and business writing
 
Keyboarding Made Easy Module 1
Basic Keyboard Positions
In module one, we will begin with becoming familiar with the keyboard layout.  We will explore letters JFKD, the Space Bar, the Enter key, letters HGIE, letters LSA and Semicolon, letters URYT, and letters NVBMC.  Also included in module one is proper hand positioning.
Preparing to Keyboard
Learning the Keyboard
Naming Your Fingers
Home Row
Position of Hands
Keyboarding Made Easy Module 2
Special Characters and Letter Combinations
Module two looks at corrective and improvement techniques in keyboarding.  Also included is using special character keys and keying letter combinations.
Using the Shift Keys
Corrective and Improvement Techniques
Calculating Errors 
Keying Letter Combinations
AutoBlend Prefixes
Keyboarding Made Easy Module 3
Alignment and Calculations
After looking at aligning text and proper positioning using tabs, module three will take us through different styles of text.  Also included in module three is the number row and special characters included on the number keys.  Once you are familiar with the keys, we can start working on our words per minute!
Text Alignment
Positioning Text Using Tabs
Using Text Styles
AutoBlend Suffixes
Calculating WPM
Keyboarding Made Easy Module 4
Putting the Strokes Together
After becoming familiar with the numeric keypad, module four will discuss how to write and format personal and business letters.  Also included in this module is using electronic communication and creating newsletters. 
Using the Numeric Keypad
Writing and Formatting a Personal Letter
Writing and Formatting a Business Letter
Fax Cover Sheets
Creating a Newsletter
 
Ed4Career is committed to being both environmentally conscious and making it easier for you to study! We're making your education mobile! All of our textbooks are now provided as eTextbooks. You can access them on your laptop, tablet, or mobile device and can study anytime, anywhere.
The move away from physical books to eTextbooks means you get the latest, most up-to-date version available. This also makes your training more accessible, so you can study anywhere you have your phone or tablet. The best part is that all materials are included in your training cost so there are NO extra fees for books!
Internet Connection
Broadband or High-Speed - DSL, Cable, and Wireless Connections
*Dial-Up internet connections will result in a diminished online experience. Classroom pages may load slowly and viewing large audio and video files may not be possible.
Hardware Requirements
Processor - 2GHz Processor or Higher
Memory - 1 GB RAM Minimum Recommended
PC Software Requirements
Operating Systems - Windows 7 or higher
Microsoft Office 2013 or higher. Also, you could use a general Word Processing application to save and open Microsoft Office formats (.doc, .docx, .xls, .xlsx, .ppt, .pptx)
Internet Browsers - Google Chrome is highly recommended


Cookies MUST be enabled
Pop-ups MUST be allowed (Pop-up Blocker disabled)

The Kindle Reader App or VitalSource Bookshelf App are needed for many of our courses (No special equipment needed. This can be downloaded for FREE onto your computer.)
PowerPoint Viewer (if you do not have PowerPoint)
QuickTime, Windows Media Player &/or Real Player
MAC Software Requirements
Operating Systems - Mac OS x 10 or higher with Windows
Mac office programs or a Word Processing application to save and open Microsoft Office formats (.doc, .docx, .xls, .xlsx, .ppt, .pptx)
Internet Browsers- Google Chrome is highly recommended


Cookies MUST be enabled
Pop-ups MUST be allowed (Pop-up Blocker disabled)

The Kindle Reader App or VitalSource Bookshelf App are needed for many of our courses (No special equipment needed. This can be downloaded for FREE onto your computer.)
PowerPoint Viewer (if you do not have PowerPoint)
Adobe PDF Reader
Apple QuickTime Media Player