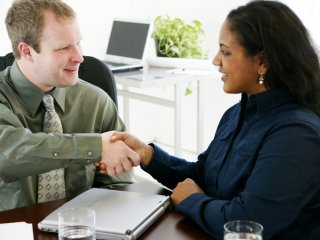 Course Type:
Instructor Led - 4 Weeks Long
Description
Objectives
Outline
Materials
System Requirements
Anxieties, fear of rejection or lack of confidence are emotions that can affect the best of us before or during an interview. Learning how to get to the heart of mastering interviews is challenging but not impossible to achieve. This mindset begins with changing the way an interview is approached. Instead of seeing the interview process as an interviewer controlled experience, the interview process should be seen as a two-way conversation between you and the interviewer. This course introduces you to the skills for developing and improving your interviewing skills for improved communication and rapport with the interviewer.
* You have 4 weeks to complete this course from date of your enrollment.
** Course Subject to Change.
After completing this course, you should be able to:
Identify the beginning stages for developing interviewing skills
List the techniques for interpreting and responding to interview questions
Recognize the legal guidelines for interview questions
Recall appropriate questions to ask during an interview 
Improve Your Interviewing Skills Module 1
Introduction: Interviewing
In this module you will learn the beginning stages for developing interviewing skills. We will discuss the importance of researching a company before the interview and how to create your own personal interviewing manual of research information. Once you understand how and what research information you need you will be able to prepare mastering the informational and phone interviewing process.
Oxygen Tank for the Interviewee
Designing Your Research Manual
Researching the Company
Mastering the Information Interview
Phone Interviewing
Improve Your Interviewing Skills Module 2
Interviewing Questions
Interview questions can be challenging to answer even for a seasoned job seeker. Techniques for interpreting and responding to questions can prepare you for any question asked in an interview. This module will discuss how to interpret questions for multiple interview settings so that you can confidently sell your skills and strengths to a potential employer.
The Question You Must Answer
When It's Not About You
What Not to Say
Panel Interviewing
Where Does the Law Draw the Line?
Improve Your Interviewing Skills Module 3
Trick Questions and Posing Questions
In this module we will discuss the necessary skills for becoming a well-prepared job applicant. We discuss the potential for illegal, hidden or tricky intentions that are sometimes present in an interview. We'll also consider when it's appropriate for you to say 'thank you' and when it's your turn to pose questions. It is important to come prepared to turn the one-sided interview into a dialogue and to ask meaningful questions.
Trick Questions
Thank You
New Interview
Google
Your Turn to Pose Questions
Improve Your Interviewing Skills Module 4
The Ideal Interview
In this final module, we will discuss a number of aspects of interviewing. We'll consider salary negotiations, online interviews, and how to use LinkedIn to improve the interview process. We'll discuss first interview impressions, informational interviewing, and various linchpins for success.
Salary Negotiation
Linchpins for Success
Online Interviews
LinkedIn
Ideal Intervie
 
Ed4Career is committed to being both environmentally conscious and making it easier for you to study! We're making your education mobile! All of our textbooks are now provided as eTextbooks. You can access them on your laptop, tablet, or mobile device and can study anytime, anywhere.
The move away from physical books to eTextbooks means you get the latest, most up-to-date version available. This also makes your training more accessible, so you can study anywhere you have your phone or tablet. The best part is that all materials are included in your training cost so there are NO extra fees for books!
Internet Connection
Broadband or High-Speed - DSL, Cable, and Wireless Connections
*Dial-Up internet connections will result in a diminished online experience. Classroom pages may load slowly and viewing large audio and video files may not be possible.
Hardware Requirements
Processor - 2GHz Processor or Higher
Memory - 1 GB RAM Minimum Recommended
PC Software Requirements
Operating Systems - Windows 7 or higher
Microsoft Office 2013 or higher. Also, you could use a general Word Processing application to save and open Microsoft Office formats (.doc, .docx, .xls, .xlsx, .ppt, .pptx)
Internet Browsers - Google Chrome is highly recommended


Cookies MUST be enabled
Pop-ups MUST be allowed (Pop-up Blocker disabled)

The Kindle Reader App or VitalSource Bookshelf App are needed for many of our courses (No special equipment needed. This can be downloaded for FREE onto your computer.)
PowerPoint Viewer (if you do not have PowerPoint)
QuickTime, Windows Media Player &/or Real Player
MAC Software Requirements
Operating Systems - Mac OS x 10 or higher with Windows
Mac office programs or a Word Processing application to save and open Microsoft Office formats (.doc, .docx, .xls, .xlsx, .ppt, .pptx)
Internet Browsers- Google Chrome is highly recommended


Cookies MUST be enabled
Pop-ups MUST be allowed (Pop-up Blocker disabled)

The Kindle Reader App or VitalSource Bookshelf App are needed for many of our courses (No special equipment needed. This can be downloaded for FREE onto your computer.)
PowerPoint Viewer (if you do not have PowerPoint)
Adobe PDF Reader
Apple QuickTime Media Player