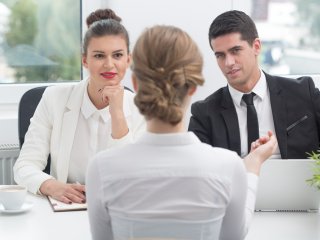 Course Type:
Instructor Led - 4 Weeks Long
Description
Objectives
Outline
Materials
System Requirements
Whether you are a newly promoted manager, a business owner or a human resource professional, knowing the ins and outs of dealing with HR issues is critical to your success. Our Human Resource Essentials course is designed to provide an overview of specific human resource functions. Throughout this course, we will explore the road map of human resources through legal issues, recruiting and retaining the best employees to terminating poor performers.
* You have 4 weeks to complete this course from date of your enrollment.
** Course Subject to Change.
After completing this course, you should be able to:
Identify recruiting functions and how they are implemented
Recognize the importance of performance evaluations and employee benefits
Recall aspects of employee/labor relations
Describe how to manage a diverse workplace
Human Resource Essentials Module 1
Strategic Planning in Human Resources and Recruiting Functions
To be able to understand the human resource function, you must first define and understand the strategy and mission statement of your company.  In this module, we will learn the importance of understanding where you are going and how the human resource function integrates into this mission. We will also dive into recruiting functions and how they are implemented.
Organizational Strategy
Mission Statement
Talent Acquisition
Onboarding
Talent Development
Human Resource Essentials Module 2
Useful Performance Evaluations and Benefits
During this module, we will look at why performance evaluations are used and what the benefits are for the employer and employee. We will also dive into the types of benefits that are issued to employees and learn how they are used in the workplace.
What is a Performance Evaluation
Benefits
Insurance and Retirement
Compensation Factors
Salary Data
Human Resource Essentials Module 3
Employee/Labor Relations and the Diverse Workplace
In module three we define what employee relations are, as well as what type of legal considerations there are in the hiring process. We also look at aspects of how to manage a diverse workplace.
Employee Relations
Manager's Philosophy
Legal Considerations
Managing a Diverse Workforce
Measuring the Impact of Diversity
Human Resource Essentials Module 4
Technology and Workplace Challenges
In our final module we will discuss what major role technology plays in the workplace and how it is a competitive advantage. We will close out the class with learning about the current changes that affect the workplace today, how to adapt to changes and how this can be crucial in the success or failure of a company.
Technology and Change
Policies in the Workplace
HRIS (Human Resources Information System)
Changes in the Workforce
Organizational Culture
Ed4Career is committed to being both environmentally conscious and making it easier for you to study! We're making your education mobile! All of our textbooks are now provided as eTextbooks. You can access them on your laptop, tablet, or mobile device and can study anytime, anywhere.
The move away from physical books to eTextbooks means you get the latest, most up-to-date version available. This also makes your training more accessible, so you can study anywhere you have your phone or tablet. The best part is that all materials are included in your training cost so there are NO extra fees for books!
Internet Connection
Broadband or High-Speed - DSL, Cable, and Wireless Connections
*Dial-Up internet connections will result in a diminished online experience. Classroom pages may load slowly and viewing large audio and video files may not be possible.
Hardware Requirements
Processor - 2GHz Processor or Higher
Memory - 1 GB RAM Minimum Recommended
PC Software Requirements
Operating Systems - Windows 7 or higher
Microsoft Office 2013 or higher. Also, you could use a general Word Processing application to save and open Microsoft Office formats (.doc, .docx, .xls, .xlsx, .ppt, .pptx)
Internet Browsers - Google Chrome is highly recommended


Cookies MUST be enabled
Pop-ups MUST be allowed (Pop-up Blocker disabled)

The Kindle Reader App or VitalSource Bookshelf App are needed for many of our courses (No special equipment needed. This can be downloaded for FREE onto your computer.)
PowerPoint Viewer (if you do not have PowerPoint)
QuickTime, Windows Media Player &/or Real Player
MAC Software Requirements
Operating Systems - Mac OS x 10 or higher with Windows
Mac office programs or a Word Processing application to save and open Microsoft Office formats (.doc, .docx, .xls, .xlsx, .ppt, .pptx)
Internet Browsers- Google Chrome is highly recommended


Cookies MUST be enabled
Pop-ups MUST be allowed (Pop-up Blocker disabled)

The Kindle Reader App or VitalSource Bookshelf App are needed for many of our courses (No special equipment needed. This can be downloaded for FREE onto your computer.)
PowerPoint Viewer (if you do not have PowerPoint)
Adobe PDF Reader
Apple QuickTime Media Player