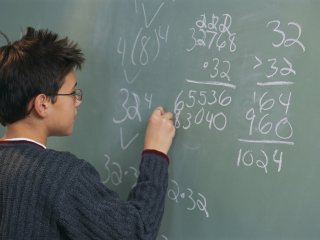 Course Type:
Instructor Led - 4 Weeks Long
Description
Objectives
Outline
Materials
System Requirements
Get ready to create your own path to GED Math success!  Our course will prepare you take the Mathematics portion of the GED exam with a study plan to fit your needs.  This GED math review course will provide several resources from strategies, review of materials, test-taking tips, practice exercises, and exams. 
* You have 4 weeks to complete this course from date of your enrollment.
** Course Subject to Change.
After completing this course, you should be able to:
Identify the basic mathematical operations in working with whole numbers
List the strategies to help you work with fractions and decimals
Identify how to measure and convert within the metric system
Recall ways to work with basic algebra
GED® Math Test Preparation Module 1
Working with Whole Numbers
Most of us take whole numbers for granted.  Whole numbers help us in daily activities. We wouldn't be able to locate specific houses, keep track of how many oranges we have, budget our checkbooks and figure out basic word problems.  Module 1 will review the basic mathematical operations in working with whole numbers.
Basic Operations

Properties of Numbers
Order of Operations
Five Steps to Solve Word Problems
Scientific Notation with Large Numbers
GED® Math Test Preparation Module 2
Working with Fractions and Decimals
Decimals, Fractions, and Percentages are just different ways of showing the same value. Planning and building a house requires lots of calculations with fractions and decimals.  You used them in everyday situations, like cooking and figuring gas mileage.  Module two will give simple strategies to help any student learn how to work with fractions and decimals.
Understanding Fractions

Adding, Subtracting, Multiplying, and Dividing Fractions
Changing Fractions to Decimals and Decimals to Fractions
Scientific Notation with Small Numbers
Ratios and Proportions
GED® Math Test Preparation Module 3
Metric Measurement
With an understanding of metric measurement, you can measure nearly anything in the world!  Throughout module three, we will take a look at how to measure and convert within the metric system. We will also look at geometric shapes and will share tips on how to easily find area, perimeter, circumference and volume.
Customary and Metric Measures

Converting Measurements
Graphs and Tables
Common Geometric Shapes
Area, Perimeter, Circumference, and Volume
GED® Math Test Preparation Module 4
Algebraic Expressions
Module four will help anyone understand how to work with basic algebra.  We will review key definitions and phrases used and also look at the order of operations.  Module four will also touch on basic geometry problems.  We will share tips and tricks about how to remember the different steps in solving expressions and problems.
Working with Signed Numbers

Simplifying and Writing Algebraic Expressions
Solving One-Step or longer Equations
Solving Inequalities
Using Algebra to Solve Word and Geometry Problems
Ed4Career is committed to being both environmentally conscious and making it easier for you to study! We're making your education mobile! All of our textbooks are now provided as eTextbooks. You can access them on your laptop, tablet, or mobile device and can study anytime, anywhere.
The move away from physical books to eTextbooks means you get the latest, most up-to-date version available. This also makes your training more accessible, so you can study anywhere you have your phone or tablet. The best part is that all materials are included in your training cost so there are NO extra fees for books!
Internet Connection
Broadband or High-Speed - DSL, Cable, and Wireless Connections
*Dial-Up internet connections will result in a diminished online experience. Classroom pages may load slowly and viewing large audio and video files may not be possible.
Hardware Requirements
Processor - 2GHz Processor or Higher
Memory - 1 GB RAM Minimum Recommended
PC Software Requirements
Operating Systems - Windows 7 or higher
Microsoft Office 2013 or higher. Also, you could use a general Word Processing application to save and open Microsoft Office formats (.doc, .docx, .xls, .xlsx, .ppt, .pptx)
Internet Browsers - Google Chrome is highly recommended


Cookies MUST be enabled
Pop-ups MUST be allowed (Pop-up Blocker disabled)

The Kindle Reader App or VitalSource Bookshelf App are needed for many of our courses (No special equipment needed. This can be downloaded for FREE onto your computer.)
PowerPoint Viewer (if you do not have PowerPoint)
QuickTime, Windows Media Player &/or Real Player
MAC Software Requirements
Operating Systems - Mac OS x 10 or higher with Windows
Mac office programs or a Word Processing application to save and open Microsoft Office formats (.doc, .docx, .xls, .xlsx, .ppt, .pptx)
Internet Browsers- Google Chrome is highly recommended


Cookies MUST be enabled
Pop-ups MUST be allowed (Pop-up Blocker disabled)

The Kindle Reader App or VitalSource Bookshelf App are needed for many of our courses (No special equipment needed. This can be downloaded for FREE onto your computer.)
PowerPoint Viewer (if you do not have PowerPoint)
Adobe PDF Reader
Apple QuickTime Media Player