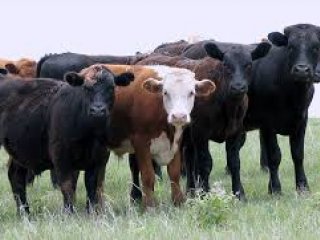 Course Type:
Instructor Led - 4 Weeks Long
Description
Objectives
Outline
Materials
System Requirements
Many people are returning to their roots these days and venturing into one of the oldest professions - farming - but on a smaller scale. Small scale farming is a viable source of side income as well as a great family food source. This course will provide you with resources and information needed to start raising, caring for and profiting from small animals and cattle. You will gain information about every aspect of raising farm animals, from selecting the right animals to harvesting and butchering.
* You have 4 weeks to complete this course from date of your enrollment.
** Course Subject to Change.
After completing this course, you should be able to:
Identify healthy animals to use in production and recall the difficulties and benefits of raising livestock
Recall the specifics of raising and handling various breeds of waterfowl, turkeys, game birds and rabbits
List ways to grow your farm with goats, sheep and pigs
Recognize the necessary steps needed to profit from cattle 
Farm Animals and Their Health Module 1 Chapters 1-2
Starting with Your Land and Chickens
Module one provides an in-depth overview of the difficulties and benefits of raising livestock. Will take a look at the beginning stages of farm development, such as selecting the proper land based on what types of animals you'd like to acquire and the associated cost of start-up materials. The proper way to raise chickens to ensure their optimal development and as well as potential health concerns will also be addressed.
Farm Expenses
The Difficulties and Benefits to Raising Livestock
Selecting, Raising and Feeding Your Chickens
Common Health Concerns
How to Benefit From Your Investment
Farm Animals and Their Health Module 2 Chapters 3-5
Discovering the World of Waterfowl, Turkeys, Game Birds and Rabbits
Module two explores the specifics of raising and handing various breeds of waterfowl, turkeys, game birds and rabbits. Learning how to prepare for the arrival of these types of animals is essential as it is a thorough process with many components. The proper ways to handle reproduction and caring for the young are essential skills to ensure a healthy and functioning farm.
Common Breeds
Selection and Husbandry
Handling
Common Health Concerns
Reproduction and Caring for the Young
Farm Animals and Their Health Module 3 Chapters 6-8
Growing Your Farm with Goats, Sheep and Pigs
Module three addresses all aspects of raising animals that are a bit larger and require more care, such as goats, sheep and pigs. We will take a look at what is involved in selection, breeding and husbandry. Specific handling techniques for the breeds based on size will be looked at, as well as potential health concerns and disease prevention measures.
Common Breeds
Various Purposes for Animals
Selection and Husbandry
Potential Health Concerns
Suggested Cage Sizes for Larger Breeds
Farm Animals and Their Health Module 4 Chapters 9-12
Cattle and the Necessary Steps to Profit
Building on the last module, module four focuses on both beef and dairy cows and what is involved in raising these large animals. We will also look into two subjects that can be difficult for a beginner, the subjects of medicating and butchering your livestock. Proper ways to keep cows healthy to increase profit and reproductive health will be covered.
Common Breeds
Husbandry, Reproduction and Caring for Calves
Common Health Concerns
Administering Medication
Proper Methods for Butchering your Animals
Ed4Career is committed to being both environmentally conscious and making it easier for you to study! We're making your education mobile! All of our textbooks are now provided as eTextbooks. You can access them on your laptop, tablet, or mobile device and can study anytime, anywhere.
The move away from physical books to eTextbooks means you get the latest, most up-to-date version available. This also makes your training more accessible, so you can study anywhere you have your phone or tablet. The best part is that all materials are included in your training cost so there are NO extra fees for books!
Internet Connection
Broadband or High-Speed - DSL, Cable, and Wireless Connections
*Dial-Up internet connections will result in a diminished online experience. Classroom pages may load slowly and viewing large audio and video files may not be possible.
Hardware Requirements
Processor - 2GHz Processor or Higher
Memory - 1 GB RAM Minimum Recommended
PC Software Requirements
Operating Systems - Windows 7 or higher
Microsoft Office 2013 or higher. Also, you could use a general Word Processing application to save and open Microsoft Office formats (.doc, .docx, .xls, .xlsx, .ppt, .pptx)
Internet Browsers - Google Chrome is highly recommended


Cookies MUST be enabled
Pop-ups MUST be allowed (Pop-up Blocker disabled)

The Kindle Reader App or VitalSource Bookshelf App are needed for many of our courses (No special equipment needed. This can be downloaded for FREE onto your computer.)
PowerPoint Viewer (if you do not have PowerPoint)
QuickTime, Windows Media Player &/or Real Player
MAC Software Requirements
Operating Systems - Mac OS x 10 or higher with Windows
Mac office programs or a Word Processing application to save and open Microsoft Office formats (.doc, .docx, .xls, .xlsx, .ppt, .pptx)
Internet Browsers- Google Chrome is highly recommended


Cookies MUST be enabled
Pop-ups MUST be allowed (Pop-up Blocker disabled)

The Kindle Reader App or VitalSource Bookshelf App are needed for many of our courses (No special equipment needed. This can be downloaded for FREE onto your computer.)
PowerPoint Viewer (if you do not have PowerPoint)
Adobe PDF Reader
Apple QuickTime Media Player