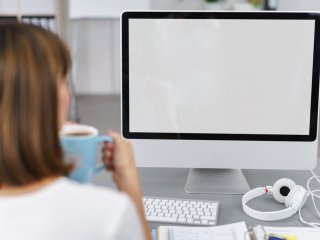 Course Type:
Instructor Led - 4 Weeks Long
Description
Objectives
Outline
Materials
System Requirements
E-mail is one of the greatest inventions of our lifetime phenomenally affecting the way we communicate. Reading, writing and managing e-mail is taking up an increasing amount of our time. But are we using it right? This course helps you learn the best way to create and use e-mail. Be it a thank you note, a meeting reminder, a proposal or a sales pitch, a well-written message that looks and sounds professional will make it easier for people to want to do business with you. It will help people feel good about communicating with you and help you achieve the right results. 
* You have 4 weeks to complete this course from date of your enrollment.
** Course Subject to Change.
Upon completion of this course, you should be able to:
Recognize the basics of using e-mail
Define e-mail etiquette
Recall proper planning and structuring techniques for e-mail
Recognize safe and unsafe e-mailing techniques, including security issues and viruses
E-Mail Etiquette: Netiquette Module 1
Introduction to E-mail
Module one will look at one of the possibly greatest inventions of our lifetime. E-mail takes an increasingly amount of our time and in module one, we will look at how to maximize our time.  Also included in this module is a discussion on the seven deadly sins of e-mail and how to avoid them. 
The Impact of e-Mail on Business
International Considerations
Seven Deadly Sins of e-Mail
Top 10 Complaints about e-Mail in Practice
Maximizing the Potential of e-Mail
E-Mail Etiquette: Netiquette Module 2
E-mail Etiquette
Module two will examine how to create well written emails, to include the subject line, the message itself, and the signature block.  Also included in module two is organization basics.  Just as with any filing system, your emails should be organized into folders and mail should be processed in a proficient method that works best for you.  In module two we will look at tips to use to best manage your e-mail.
Processing Mail
Using Folders
Looking Good Online
SMART Subject Lines
Ending Your Message & Signatures
E-Mail Etiquette: Netiquette Module 3
Relationships Through e-Mail
Building relationships through email may seem difficult, but module three will provide you with tips that will guide you to writing great e-mails. E-mails that are not so routine need more thought and careful planning.  Module three will look at how to use the simple Four Point Plan for proper e-mail structuring.  Also included in this module is how to establish long lasting bonds and how to develop rapport with others through this mode of communication.
Writing Great e-Mails
The Four Point Plan in Practice
Using e-Mail to Build Relationships
E-Mail Can Affect Careers
Star Tips for Creating Bonds and Developing Rapport
E-mail Etiquette: Netiquette Module 4
Nurturing Your e-Mail Netiquette
Who you are writing to depends on whether or not you should follow grammar rules.  Module four will examine proper use of grammar in your e-mail and help you spruce up your skills.  Also included in module four is the overall function of spam filters and basic security and virus issues you may encounter with your e-mails and what you can do to protect your messages.
Spruce Up Your Cyber-Grammar Skills

Spam Filters, Mail Bombing, Snooping and Harassment
Security Issues
Protecting Your Messages
Computer Viruses
Ed4Career is committed to being both environmentally conscious and making it easier for you to study! We're making your education mobile! All of our textbooks are now provided as eTextbooks. You can access them on your laptop, tablet, or mobile device and can study anytime, anywhere.
The move away from physical books to eTextbooks means you get the latest, most up-to-date version available. This also makes your training more accessible, so you can study anywhere you have your phone or tablet. The best part is that all materials are included in your training cost so there are NO extra fees for books!
Internet Connection
Broadband or High-Speed - DSL, Cable, and Wireless Connections
*Dial-Up internet connections will result in a diminished online experience. Classroom pages may load slowly and viewing large audio and video files may not be possible.
Hardware Requirements
Processor - 2GHz Processor or Higher
Memory - 1 GB RAM Minimum Recommended
PC Software Requirements
Operating Systems - Windows 7 or higher
Microsoft Office 2013 or higher. Also, you could use a general Word Processing application to save and open Microsoft Office formats (.doc, .docx, .xls, .xlsx, .ppt, .pptx)
Internet Browsers - Google Chrome is highly recommended


Cookies MUST be enabled
Pop-ups MUST be allowed (Pop-up Blocker disabled)

The Kindle Reader App or VitalSource Bookshelf App are needed for many of our courses (No special equipment needed. This can be downloaded for FREE onto your computer.)
PowerPoint Viewer (if you do not have PowerPoint)
QuickTime, Windows Media Player &/or Real Player
MAC Software Requirements
Operating Systems - Mac OS x 10 or higher with Windows
Mac office programs or a Word Processing application to save and open Microsoft Office formats (.doc, .docx, .xls, .xlsx, .ppt, .pptx)
Internet Browsers- Google Chrome is highly recommended


Cookies MUST be enabled
Pop-ups MUST be allowed (Pop-up Blocker disabled)

The Kindle Reader App or VitalSource Bookshelf App are needed for many of our courses (No special equipment needed. This can be downloaded for FREE onto your computer.)
PowerPoint Viewer (if you do not have PowerPoint)
Adobe PDF Reader
Apple QuickTime Media Player