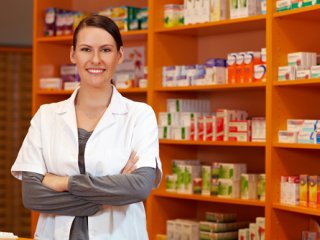 Course Type:
Instructor Led - 4 Weeks Long
Description
Objectives
Outline
Materials
System Requirements
The demand for skilled pharmacy technicians is rapidly growing. If you are interested in a dynamic career in a high paced medical field, this course is for you. This course provides an overview of the history of pharmacology and the day to day responsibilities of a pharmacy technician in hospital and retail pharmacy settings. Common drugs and their uses, as well as how they are administered and possible interactions in the body are described. Patient confidentiality laws, including HIPAA and prescription regulations, such as who can prescribe medication are also discussed.
* You have 4 weeks to complete this course from date of your enrollment.
** Course Subject to Change.
After completing this course, you should be able to:
Recall the day to day responsibilities of pharmacy technicians, required training and career opportunities
Identify pharmacy regulations and patient confidentiality laws in the medical field
Define the different categories of medications used to treat or prevent a variety of conditions and symptoms
Recognize proper dosage requirements and classifications of drugs 
Discover a Career as a Pharmacy Technician Module 1 Chapters 1-2
Becoming a Pharmacy Technician
Module one provides an overview into the history of pharmacology as well as pharmacology science principles. We will focus on drug abbreviations, categories of drugs and how they enter the body. Administration routes, such as oral, injectable and inhalants will be covered. This module guides you in learning the day to day responsibilities of pharmacy technicians, training required and potential career opportunities.
History of Pharmacy
Careers for a Pharmacy Technician  
Pharmacology Science
Routes of Administration
Pharmacy Technician Training
Discover a Career as a Pharmacy Technician Module 2 Chapters 3-4
Pharmacy Regulations and Common Cold Medications
Module two identifies patient confidentiality laws for the medical field, such as HIPPA rules. We will discuss the history of the Food and Drug Administration (FDA), as well as provide an overview of controlled substances and prescription regulations. Common antibiotics, antifungals and antivirals are identified as well as preventive drugs.
FDA History and Overview
Controlled Substances
Patient Confidentially and HIPPA
Prescription Regulation
Common Antibiotics, Antifungals and Antivirals
Discover a Career as a Pharmacy Technician Module 3 Chapters 5-6
Heart and Pain Control Medicine
Module three discusses the different categories of medications used to treat or prevent high blood pressure, heart attacks and strokes. Specific medications for pain control, how they function in the body and why a doctor might prescribe them based on different levels of pain are identified.  As an individual interested in becoming a pharmacy technician, being informed about pain medication and possible addiction is vital knowledge for a successful career.
High Blood Pressure
Heart Attacks and Strokes
Preventive Medications
Pain Control
Prescription Techniques
Discover a Career as a Pharmacy Technician Module 4 Chapters 7-8
Birth Control, Diabetes and Pharmacy Math
Module four provides information into common medications for used hormones, thyroid issues, birth control and diabetes. An in-depth look into the use of math in pharmacy, such as roman numerals, converting ratios to percentages and the apothecary system of measurement is covered. Understanding how to calculate proper dosages for pediatric and geriatric patients is an important aspect of training to be a successful Pharmacy Technician.
Hormones and Thyroid
Reproduction
Calculating the Proper Dosage
The Use of Math in Pharmacy
Common Medications for Diabetes
Ed4Career is committed to being both environmentally conscious and making it easier for you to study! We're making your education mobile! All of our textbooks are now provided as eTextbooks. You can access them on your laptop, tablet, or mobile device and can study anytime, anywhere.
The move away from physical books to eTextbooks means you get the latest, most up-to-date version available. This also makes your training more accessible, so you can study anywhere you have your phone or tablet. The best part is that all materials are included in your training cost so there are NO extra fees for books!
Internet Connection
Broadband or High-Speed - DSL, Cable, and Wireless Connections
*Dial-Up internet connections will result in a diminished online experience. Classroom pages may load slowly and viewing large audio and video files may not be possible.
Hardware Requirements
Processor - 2GHz Processor or Higher
Memory - 1 GB RAM Minimum Recommended
PC Software Requirements
Operating Systems - Windows 7 or higher
Microsoft Office 2013 or higher. Also, you could use a general Word Processing application to save and open Microsoft Office formats (.doc, .docx, .xls, .xlsx, .ppt, .pptx)
Internet Browsers - Google Chrome is highly recommended


Cookies MUST be enabled
Pop-ups MUST be allowed (Pop-up Blocker disabled)

The Kindle Reader App or VitalSource Bookshelf App are needed for many of our courses (No special equipment needed. This can be downloaded for FREE onto your computer.)
PowerPoint Viewer (if you do not have PowerPoint)
QuickTime, Windows Media Player &/or Real Player
MAC Software Requirements
Operating Systems - Mac OS x 10 or higher with Windows
Mac office programs or a Word Processing application to save and open Microsoft Office formats (.doc, .docx, .xls, .xlsx, .ppt, .pptx)
Internet Browsers- Google Chrome is highly recommended


Cookies MUST be enabled
Pop-ups MUST be allowed (Pop-up Blocker disabled)

The Kindle Reader App or VitalSource Bookshelf App are needed for many of our courses (No special equipment needed. This can be downloaded for FREE onto your computer.)
PowerPoint Viewer (if you do not have PowerPoint)
Adobe PDF Reader
Apple QuickTime Media Player