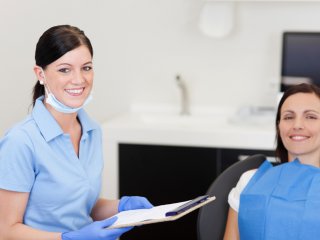 Course Type:
Instructor Led - 4 Weeks Long
Description
Objectives
Outline
Materials
System Requirements
Working as a dental office assistant is an ideal method of finding employment in the professional setting of a dental office without spending the time or money to pursue a more in-depth education required of those working in the clinical side of the dental practice. As a dental office assistant, you often single-handedly manage the office side of the operation. Lacking the essential talents of a dental office assistant, a dental office would have to shut down, or at least sputter along at a less than efficient manner. There are several duties performed by a dental office assistant that make this employee so important to the overall operation of a dental clinic. First, the dental office assistant is the one who sets up patients appointments for the dental practice. Without these appointments, the dental office is without an income. The dental office assistant also welcomes patients to the practice and handles all of the paperwork, including dental insurance forms. With some quality training and good organizational skills, you can easily handle all of these facets of a dental office assistant career. In larger dental facilities, many dental office assistants might be on the payroll, with each one handed a specific job. Hire on with a small general dental practice and your job is varied with several tasks required for your employment. Our course will share the interesting career of a dental office assistant.
* You have 4 weeks to complete this course from date of your enrollment.
** Course Subject to Change.
After completing this course, you should be able to:
Identify duties and job responsibilities for members of the dental team 
Recognize the knowledge requirements for the dental assistant
Recall how to organize and maintain a dental office
Define processes involved with insurance, accounting and financial management 
Discover a Career as a Dental Office Assistant Module 1
Responsibilities of the Dental Team and Basic Management Requirements
Prior to joining a dental office, you need to know the hierarchy of the personnel who works in such an organization. There are different staff members, one of which is probably your employer, who have a number of duties. Module one will examine each of the members of the dental team.  Module one also includes an overview of the ethical considerations a dental office assistant must use when working with a patient's dental records or a client's financial information. Dental offices come as varied as the personalities of dentists in the real world. Even though there are differences, a few basics are needed in all dental practices. Finally, module one will discuss the primary responsibilities for job performance in clinical and non-clinical areas of the office.
The Dental Healthcare Team
Ethical Responsibilities
What DOA Does
Dental Office Design
Effective Communication Skills
Managing the Waiting Area
Discover a Career as a Dental Office Assistant Module 2
Everyday Tips and Knowledge Requirements for the Dental Assistant
Scheduling dental patients resembles fitting together a huge jigsaw puzzle. There are several variables which must be considered. Module two will analyze each of these variables. Also included in module two is a list of guidelines regarding the scheduling duties of the dental office assistant. Even though the dental office assistant will not be involved with the clinical areas of the dental office, it is still important to know basic dental anatomy, in order to discuss details with the dentist, other dental employees, insurance companies and even the patients. Module two will examine these essential dental terms.  Finally, module two will review a number of dental procedures that you need to know. Scheduling
Time-Saving Functions
Types of Appointment Scheduling
Basic Dental Anatomy
Basic Dental Assistant Duties
Dental Procedures
Discover a Career as a Dental Office Assistant Module 3
Organizing the Office 
As a dental office assistant, you are the key member of the dental team who is in charge of keeping accurate electronic clinical records. Module three will review the details involved with maintaining complete electronic clinical records for dental practices. Preparing and compiling the clinical records of dental patients must be thorough and complete, since these records outline the comprehensive history of any general dental management, individual dental treatments, initial and routine diagnoses, and any illnesses involving the oral cavity. Also included in module three is an overview of the dental office assistant's role in ordering the office supplies that are required and staying involved with equipment cleaning around the dental office. Keeping tabs on the inventory of a dental office is often a job assigned to the dental office assistant. When this job is performed correctly, all dental professionals have the necessary supplies when they need them. When problems arise from a faulty inventory system, the dental practice suffers from lost opportunities, which means a reduction in income. A careful examination of procedures to use in handling inventory is included in module three. 
Electronic Clinical Records
Filing Methods
Preparing Clinical Records
Dental Office Equipment
Managing Inventory
Types of Supplies
Discover a Career as a Dental Office Assistant Module 4
Financial Duties and Essentials of Employment
A majority of dental offices handle claims to dental insurance companies to help pay for dental care. A dental office assistant will need to become familiar with the types of dental insurance used by patients, be able to code insurance claims, and have familiarity with ways of filing these same claims. Module four will examine each of the financial duties of the medical office assistant. Managing the dental practice's finances also means maintaining accurate records involving taxes, billing, and transactions. Module four will discuss some of the essentials concerning accounting, including how to administer an office budget, the particulars involving accounts payable, and processing the payroll for an employer. Selecting a career as a dental office assistant provides ample opportunities as a career choice. Module four will examine each of these benefits. Also included in this module is an exploration of the job outlook for this career and the training needed in order to be considered for a position in a dental office. A resume only gets your foot in the door. The next step is the face-to-face interview. Module four offers some pointers on how to prepare for an interview for a dental office assistant job, along with suggestions to help make you a stand-out candidate for the position. Finally, this module will provide some tips for giving a resume that special something that gains attention.
Dental Insurance Processing
Financial Management
Managing Accounts Receivable
Payment Arrangements
Employment Strategies
Essentials of Landing a Job
Resume Basics
Ed4Career is committed to being both environmentally conscious and making it easier for you to study! We're making your education mobile! All of our textbooks are now provided as eTextbooks. You can access them on your laptop, tablet, or mobile device and can study anytime, anywhere.
The move away from physical books to eTextbooks means you get the latest, most up-to-date version available. This also makes your training more accessible, so you can study anywhere you have your phone or tablet. The best part is that all materials are included in your training cost so there are NO extra fees for books!
Internet Connection
Broadband or High-Speed - DSL, Cable, and Wireless Connections
*Dial-Up internet connections will result in a diminished online experience. Classroom pages may load slowly and viewing large audio and video files may not be possible.
Hardware Requirements
Processor - 2GHz Processor or Higher
Memory - 1 GB RAM Minimum Recommended
PC Software Requirements
Operating Systems - Windows 7 or higher
Microsoft Office 2013 or higher. Also, you could use a general Word Processing application to save and open Microsoft Office formats (.doc, .docx, .xls, .xlsx, .ppt, .pptx)
Internet Browsers - Google Chrome is highly recommended


Cookies MUST be enabled
Pop-ups MUST be allowed (Pop-up Blocker disabled)

The Kindle Reader App or VitalSource Bookshelf App are needed for many of our courses (No special equipment needed. This can be downloaded for FREE onto your computer.)
PowerPoint Viewer (if you do not have PowerPoint)
QuickTime, Windows Media Player &/or Real Player
MAC Software Requirements
Operating Systems - Mac OS x 10 or higher with Windows
Mac office programs or a Word Processing application to save and open Microsoft Office formats (.doc, .docx, .xls, .xlsx, .ppt, .pptx)
Internet Browsers- Google Chrome is highly recommended


Cookies MUST be enabled
Pop-ups MUST be allowed (Pop-up Blocker disabled)

The Kindle Reader App or VitalSource Bookshelf App are needed for many of our courses (No special equipment needed. This can be downloaded for FREE onto your computer.)
PowerPoint Viewer (if you do not have PowerPoint)
Adobe PDF Reader
Apple QuickTime Media Player