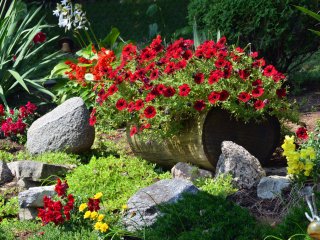 Course Type:
Instructor Led - 4 Weeks Long
Description
Objectives
Outline
Materials
System Requirements
Many people want to eat healthier, which includes lots of fresh fruits and vegetables; but prices at the local market can make this expensive to do.  You can always plant a garden, but not everyone has the space for that. The answer to both problems is container gardening.  This course gives you the information you need to get started in the satisfying world of gardening. You will learn how to choose and prepare containers, the basics of plant nutrition and feeding, and how to produce productive plants.  You will also learn where to find the right plants for your containers, the various types of plants available, and how to protect them from pests, disease, and the elements. 
* You have 4 weeks to complete this course from date of your enrollment.
** Course Subject to Change.
After completing this course, you should be able to:
List the types of containers and soils that work best for container gardens.
Recall how to plant and care for a container garden.
Name sources for plants and how to prevent pests and diseases.
Choose the right plants for your containers and climate.
Container Gardening Module 1
Containers and Soils
The key to any container garden is the pot, box, or bowl you choose to hold your soil, along with the soil you will use.  Module 1 discusses the containers available, how to select a container, and how to prepare it for planting.  We then discuss the different types of soils, how to select the right soil for your plants, and how to test the soils pH.  We conclude by discussing proper nutrition for soils.  This module covers all the basics for setting up your container garden.
Why People Container Garden
Container Ideas
Preparing Containers for Planting
Potting Soil: It's Not Just Dirt
Mixing Your Own Soils
Soil pH & Nutrition
Container Gardening Module 2
Planting and Watering
We start Module 2 with step-by-step instructions for planting different kinds of garden plants, from seeds and nursery plants to tubers, bulbs, bushes, and trees. Then we talk about keeping your container garden hydrated because containers can dry out quickly on hot or windy days. Next we discuss plant structure and how the different parts of the plant come together so it can make and store food, and transfer minerals and water from the roots to the rest of the plant.
Step-By-Step Planting Instructions
How to Water Your Plants
Conserving Water
Heat Stress
Working with Vining Plants
Extending the Growing Season
Container Gardening Module 3
Selecting Plants and Stopping Pests
If you are new to container gardening, you may be wondering just where you might find the plants to fill your garden. Module 3 helps you weigh all of your options, from purchasing and planting your own seeds to buying plants already started at your local nursery or garden center. We also cover how to recognize healthy plants so you don't waste your money buying sickly plants that die once you bring them home. We conclude by discussing the pests and diseases you may encounter in your garden, and what to do about it.
Buying Plants from the Local Nursery
Starting Your Own Plants from Seed
Buying Canes
Buying Bushes and Trees
Common Pests
Common Diseases
Container Gardening Module 4
Fruits, Vegetables, Herbs, & Flowers
Module 4 is dedicated to finding out just what you might like to grow in your containers. In truth, with enough yard space and the right climate, you can raise everything from sweet corn to sweet cherries in a container; you can even grow your own herbs, citrus fruits, strawberries, blueberries, and raspberries.  We conclude by discussing how to choose the right fruits and vegetables to fit your containers, as well as how to shelter your plants over the cold winter months.
Strawberries, Blueberries, & Raspberries
Fruit Trees
Overwintering Fruits
Handling Pollination
Growing Your Favorite Vegetables
Herbs
Flowers
Ed4Career is committed to being both environmentally conscious and making it easier for you to study! We're making your education mobile! All of our textbooks are now provided as eTextbooks. You can access them on your laptop, tablet, or mobile device and can study anytime, anywhere.
The move away from physical books to eTextbooks means you get the latest, most up-to-date version available. This also makes your training more accessible, so you can study anywhere you have your phone or tablet. The best part is that all materials are included in your training cost so there are NO extra fees for books!
Internet Connection
Broadband or High-Speed - DSL, Cable, and Wireless Connections
*Dial-Up internet connections will result in a diminished online experience. Classroom pages may load slowly and viewing large audio and video files may not be possible.
Hardware Requirements
Processor - 2GHz Processor or Higher
Memory - 1 GB RAM Minimum Recommended
PC Software Requirements
Operating Systems - Windows 7 or higher
Microsoft Office 2013 or higher. Also, you could use a general Word Processing application to save and open Microsoft Office formats (.doc, .docx, .xls, .xlsx, .ppt, .pptx)
Internet Browsers - Google Chrome is highly recommended


Cookies MUST be enabled
Pop-ups MUST be allowed (Pop-up Blocker disabled)

The Kindle Reader App or VitalSource Bookshelf App are needed for many of our courses (No special equipment needed. This can be downloaded for FREE onto your computer.)
PowerPoint Viewer (if you do not have PowerPoint)
QuickTime, Windows Media Player &/or Real Player
MAC Software Requirements
Operating Systems - Mac OS x 10 or higher with Windows
Mac office programs or a Word Processing application to save and open Microsoft Office formats (.doc, .docx, .xls, .xlsx, .ppt, .pptx)
Internet Browsers- Google Chrome is highly recommended


Cookies MUST be enabled
Pop-ups MUST be allowed (Pop-up Blocker disabled)

The Kindle Reader App or VitalSource Bookshelf App are needed for many of our courses (No special equipment needed. This can be downloaded for FREE onto your computer.)
PowerPoint Viewer (if you do not have PowerPoint)
Adobe PDF Reader
Apple QuickTime Media Player