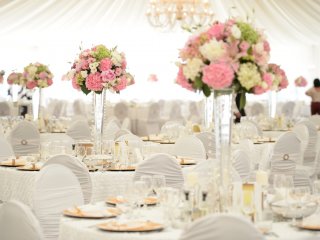 Description
Objectives
Outline
Materials
Certification
System Requirements
Watch a Demo
Weddings are a joyous occasion: the bride is glowing with joy, the groom is beaming with pride and all the guests and family are delighted with the occasion. Planning wedding events takes a lot of organization and vision. Many couples get overwhelmed with wedding planning and often rely on a trained wedding planner to help them make their important day as special as possible. The duties of a wedding consultant can vary, but often include helping the happy couple with their wedding ceremony and reception by helping to choose wedding cakes, reception sites, flowers, invitations, and much more!
Prerequisite(s): None
After completing this course, you should be able to:
Identify techniques for planning a wedding ceremony

List the steps between engagement and the wedding day

Define the elements involved in the wedding consulting business

Recall techniques for marketing and determining fees and service

Recognize basic wedding elements of being a wedding consultant
Wedding Consultant Module 1
The Ceremony Planner
Setting the Tone for the Wedding

Taking Charge of the Wedding
Choosing an Official
Deciding Who will Participate
Planning the Ceremony Location
The Wedding Program
The Wedding Rehearsal
The Ceremony Text
Incorporating Personal Beliefs
Checklists and Worksheets
Wedding Consultant Module 2
Wedding Vows and Traditions
Envisioning Your Event

The Budget, When and Where and Guest List
Transforming Your Space
Flowers, Photography, Music
The Dress and All the Rest
A Rousing Reception
The Invitation Suite and Cake
Favors and Welcome Gifts
The Other Parties
The Day of. . . in Detail
Wedding Consultant Module 3
The Wedding Consultant Business
Characteristics of a Successful Bridal Consultant

The Role of the Consultant
Wedding Day Duties
Consulting Services and Fees
Developing Your Market
Writing a Mission Statement
Building the Foundations of Your Business
Writing a Business Plan
Legal Issues
The Cost of Doing Business
Developing a Vendor Network
Marketing Your Business
Using the Internet
Tracking Your Finances
Wedding Consultant Module 4
The Portable Wedding Consultant
Accessories, Attendants, Attire

The Ceremony Itself
Divorced parents
Finances, Flowers, Guest Lists
Invitations, Honeymoon
Kids at Weddings
Music and Photography
Hair and Makeup
Rehearsals, Gifts, the Reception
Showers, Rings, Thank You Notes
Traditions, Transportation
Tuxedos, Wedding Gowns
Videography
Wedding Cakes
**Outlines are subject to change, as courses and materials are updated.**
Ed4Career is committed to being both environmentally conscious and making it easier for you to study! We're making your education mobile! All of our textbooks are now provided as eTextbooks. You can access them on your laptop, tablet, or mobile device and can study anytime, anywhere.
The move away from physical books to eTextbooks means you get the latest, most up-to-date version available. This also makes your training more accessible, so you can study anywhere you have your phone or tablet. The best part is that all materials are included in your training cost so there are NO extra fees for books!
Upon successful completion of our Wedding Consultant course, students will be prepared to sit for the NCCB national certification exam to become a Certified Wedding Planning Professional (CWPP).
Internet Connection
Broadband or High-Speed - DSL, Cable, and Wireless Connections
*Dial-Up internet connections will result in a diminished online experience. Classroom pages may load slowly and viewing large audio and video files may not be possible.
Hardware Requirements
Processor - 2GHz Processor or Higher
Memory - 1 GB RAM Minimum Recommended
PC Software Requirements
Operating Systems - Windows 7 or higher
Microsoft Office 2013 or higher. Also, you could use a general Word Processing application to save and open Microsoft Office formats (.doc, .docx, .xls, .xlsx, .ppt, .pptx)
Internet Browsers - Google Chrome is highly recommended


Cookies MUST be enabled
Pop-ups MUST be allowed (Pop-up Blocker disabled)

The Kindle Reader App or VitalSource Bookshelf App are needed for many of our courses (No special equipment needed. This can be downloaded for FREE onto your computer.)
PowerPoint Viewer (if you do not have PowerPoint)
QuickTime, Windows Media Player &/or Real Player
MAC Software Requirements
Operating Systems - Mac OS x 10 or higher with Windows
Mac office programs or a Word Processing application to save and open Microsoft Office formats (.doc, .docx, .xls, .xlsx, .ppt, .pptx)
Internet Browsers- Google Chrome is highly recommended


Cookies MUST be enabled
Pop-ups MUST be allowed (Pop-up Blocker disabled)

The Kindle Reader App or VitalSource Bookshelf App are needed for many of our courses (No special equipment needed. This can be downloaded for FREE onto your computer.)
PowerPoint Viewer (if you do not have PowerPoint)
Adobe PDF Reader
Apple QuickTime Media Player