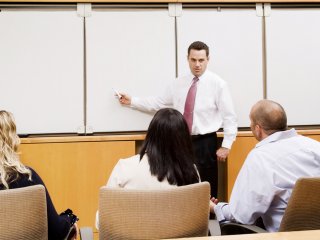 Description
Objectives
Outline
Materials
Certification
System Requirements
Watch a Demo
Our Six Sigma Black Belt course provides a step by step guide for integrating Six Sigma quality management principles to achieve significant gains in productivity and sales in today's business climate. Hands on problem-solving examples provide opportunity to practice Six Sigma organization, evaluate customer requirements, improve products and processes and perform the responsibilities and actions necessary for successful deployment. Topics covered include DMAIC and DMADV deployment models, data-driven management, process behavior charts, and the phases, tools, and techniques of the Six Sigma methodology. Each Six Sigma project carried out within an organization follows a defined sequence of steps and has quantified financial targets.
Prerequisite: None
After completing this course, you should be able to:
List the steps for recognizing opportunity in order to build a solid Six Sigma infrastructure
Define the principles of Six Sigma
Identify methods for managing metrics
Name the steps involved in each phase of the Six Sigma development process
Recall the process behavior charts that can be utilized
Six Sigma Black Belt Module 1
The Responsive Six Sigma Organization
What is Six Sigma?
Six Sigma Philosophy
Change Imperative
Implementing Six Sigma
Timetable
Infrastructure
Recognizing Opportunity
Methods for Collecting Customer Data
Becoming a Customer and Market-Driven Enterprise
Quality Function Deployment
Benchmarking
Constraint Management Measurements
Six Sigma Black Belt Module 2
Data-Driven Management and Maximizing Resources
Attributes of Good Metrics
The Balanced Scorecard
Customer Perspective
Internal Process Perspective
Innovation and Learning Perspective
Financial Perspective
Strategy Deployment Plan
Business Planning
Data Mining
Choosing the Right Projects
Analyzing Project Candidates
Ongoing Management Support
Individual Barriers to Change
Throughput-Based Project Selection
Ongoing Management Support
Six Sigma Black Belt Module 3
Project Management and Define Phase
DMAIC and DMADV Deployment Models
Project Scheduling
Project Reporting & Budgets
Six Sigma Teams
Stages in Group Development
Member Roles and Responsibilities
The Define Phase
Project Charters
Project Decomposition
Deliverables
Top-Level Process Definition
Assembling the Team
Six Sigma Black Belt Module 4
Measure Phase and Process Behavior Charts
Process Definition
Metric Definition
Process Baseline Estimates
Control Charts for Variables Data
Poisson Distribution
Frequency and Cumulative Distributions
Sampling Distributions
Binomial Probability Distribution
Hypergeometric Probability Calculations
Normal Probability
Lognormal Probability
Exponential Probability
Control Charts for Variables Data
Control Limit Equations for Averages and Ranges Charts
Six Sigma Black Belt Module 5
Measurement Systems Evaluation and Analyze Phase
Definitions
Measurement System Discrimination
Stability
Repeatability
Linearity
Output
Value Stream Analysis
Value Stream Mapping
Spaghetti Charts
Analyzing the Source of Variation
Cause and Effect Diagrams
Boxplots
Regression and Correlation Analysis
Six Sigma Black Belt Module 6  
Improve/Design and Control/Verify Phases
Using Customer Demands to Make Decisions
Lean Techniques for Optimizing Flow
Using Empirical Model Building to Optimize
Data Mining
Artificial Neural Networks
Virtual Process Mapping
Optimization Using Simulation
Risk Assessment Tools
Failure Mode and Effect Analysis
Defining New Performance Standards Using Statistical Tolerancing
Validating the New Process or Product Design
Business Process Control Planning
**Outlines are subject to change, as courses and materials are updated.**
Ed4Career is committed to being both environmentally conscious and making it easier for you to study! We're making your education mobile! All of our textbooks are now provided as eTextbooks. You can access them on your laptop, tablet, or mobile device and can study anytime, anywhere.
The move away from physical books to eTextbooks means you get the latest, most up-to-date version available. This also makes your training more accessible, so you can study anywhere you have your phone or tablet. The best part is that all materials are included in your training cost so there are NO extra fees for books!
Upon successful completion of this course, students will be prepared to sit for the American Society for Quality Six Sigma Black Belt (CSSBB) certification exam.
Internet Connection
Broadband or High-Speed - DSL, Cable, and Wireless Connections
*Dial-Up internet connections will result in a diminished online experience. Classroom pages may load slowly and viewing large audio and video files may not be possible.
Hardware Requirements
Processor - 2GHz Processor or Higher
Memory - 1 GB RAM Minimum Recommended
PC Software Requirements
Operating Systems - Windows 7 or higher
Microsoft Office 2013 or higher. Also, you could use a general Word Processing application to save and open Microsoft Office formats (.doc, .docx, .xls, .xlsx, .ppt, .pptx)
Internet Browsers - Google Chrome is highly recommended


Cookies MUST be enabled
Pop-ups MUST be allowed (Pop-up Blocker disabled)

The Kindle Reader App or VitalSource Bookshelf App are needed for many of our courses (No special equipment needed. This can be downloaded for FREE onto your computer.)
PowerPoint Viewer (if you do not have PowerPoint)
QuickTime, Windows Media Player &/or Real Player
MAC Software Requirements
Operating Systems - Mac OS x 10 or higher with Windows
Mac office programs or a Word Processing application to save and open Microsoft Office formats (.doc, .docx, .xls, .xlsx, .ppt, .pptx)
Internet Browsers- Google Chrome is highly recommended


Cookies MUST be enabled
Pop-ups MUST be allowed (Pop-up Blocker disabled)

The Kindle Reader App or VitalSource Bookshelf App are needed for many of our courses (No special equipment needed. This can be downloaded for FREE onto your computer.)
PowerPoint Viewer (if you do not have PowerPoint)
Adobe PDF Reader
Apple QuickTime Media Player