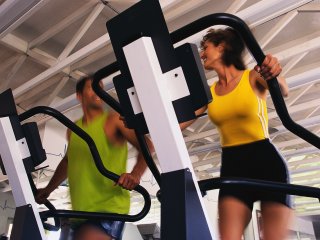 Description
Objectives
Outline
Materials
System Requirements
Watch a Demo
Personal Fitness Trainer – Level 1 contains essential information for students interested in a career as a personal trainer. This course provides an introduction to the profession along with coverage of exercise physiology, biomechanics, anatomy, motor learning, and nutrition. In this Personal Fitness Trainer – Level 1 course you will learn how to establish goals for clients and assess strength, flexibility, and risk as well as develop resistance, cardiorespiratory and flexibility training programs. Learn to be a Personal Trainer and change people's lives!
Prerequisite(s): None
After completing this course, you should be able to:
Identify current trends in the field of personal training
Recall biomechanics and nutritional needs for fitness
Define coaching and behavior modification theory
Identify the steps for an initial client screening and exercise program development
Recognize the principles for starting your own personal training business
Personal Fitness Trainer Module 1
Introduction to the Field and Profession of Personal Training
The Fitness Industry: An Overview of the Landscape
Personal Trainer's Scope of Practice
The Backgrounds of Personal Trainers
Establishing a Solid Knowledge Base
Professional Work Environments
Ethics and Professional Conduct
Client Expectations of a Personal Trainer
Where Do I Start My Career?
Rewarding Career Paths
Continuing Education and Career Development
Personal Fitness Trainer Module 2
Anatomy, Kinesiology and Biomechanical Principles
Body Position
Joint Movement
Musculoskeletal Anatomy
Joint Anatomy
Mechanical Laws of Motion
Vector Quantities
Power for Rotational Movements
Muscular Anatomy and Force
Biometrics of Selected Physical Activities
Personal Fitness Trainer Module 3
Exercise Physiology and Nutrition
Systems of the Body
Acute Responses
Energy Systems
Oxygen Requirement
Nutritional Concepts
Vitamins and Minerals
Hydration
Special Food Conditions
Understanding a Food Label
Personal Fitness Trainer Module 4
Behavior Change and Client Focus  
Challenges of Behavior Changes
Transtheoretical Model (TTM)
Health Belief Model
Theory of Planned Behavior
Social Cognitive Theory
Goal Setting Theory
Helping Clients Stay Active
Self-Efficacy
Motivation
Increase Adherence 
Personal Fitness Trainer Module 5
Coaching and Initial Client Consultation
Coaching Techniques
Active Listening
Developing Rapport
The 5 As Model of Behavior Change Counseling
Methods of Communication
Successful Client Relations
Relationship Marketing
Power of Nonverbal Communication
Generating Clients
Components of the Consultation
Client Communication
Personal Fitness Trainer Module 6
Screening and Fitness Assessments
The Screening Process
Risk Categories
Exercise Testing
Medical Clearance and Referral
Sequence of Assessments
Heart Rate
Blood Pressure
Body Composition
CRF Assessment
Muscular Strength Assessment
Personal Fitness Trainer Module 7
Program Design and Resistance Training Programs
Physiological Benefits of an Exercise Program
Muscular Fitness
Intensity, Time, and Duration
Flexibility
Anatomy of an Exercise Session
General Resistance Training Principles
Program Design Process
Resistance Training Modalities
Needs Analysis
Resistance Exercises
Personal Fitness Trainer Module 8
Cardiorespiratory and Flexibility Programs
General Training Principles
Cardiovascular Endurance
Benefits and Risk of Flexibility Training
Evaluating Flexibility
Three Types of Stretching
Static and Dynamic
Rationale for Flexibility Training
Flexibility Development Program
Personal Fitness Trainer Module 9
Personal Training and Advanced Session Components  
Client Safety
Professional Conduct
Session Components
Warm-Up Phase
Cool-Down Phase
Neuromotor Training
Advanced Training Program Design
Quality Training
Personal Fitness Trainer Module 10
Special Populations and Risk Factors
Programming for Children
Programming for Older Adults
Resistance Training Guidelines for Older Adults
Programming for Clients with CVD
Programming during Pregnancy and Postpartum
Programming for Clients with Cardiovascular Disease
Programming for Clients with Diabetes
Programming for Obese Clients  
Personal Fitness Trainer Module 11
Business Planning and Legal Issues
Personal Trainer's Position
Business Success
Training and Empowering Personal Trainers
Fitness Management
Starting a Business
Administration
Effectively Minimizing Risk
Scope of Practice and Professional Collaboration
Comprehensive Risk Management Program
**Outlines are subject to change, as courses and materials are updated.**
Ed4Career is committed to being both environmentally conscious and making it easier for you to study! We're making your education mobile! All of our textbooks are now provided as eTextbooks. You can access them on your laptop, tablet, or mobile device and can study anytime, anywhere.
The move away from physical books to eTextbooks means you get the latest, most up-to-date version available. This also makes your training more accessible, so you can study anywhere you have your phone or tablet. The best part is that all materials are included in your training cost so there are NO extra fees for books!
Internet Connection
Broadband or High-Speed - DSL, Cable, and Wireless Connections
*Dial-Up internet connections will result in a diminished online experience. Classroom pages may load slowly and viewing large audio and video files may not be possible.
Hardware Requirements
Processor - 2GHz Processor or Higher
Memory - 1 GB RAM Minimum Recommended
PC Software Requirements
Operating Systems - Windows 7 or higher
Microsoft Office 2013 or higher. Also, you could use a general Word Processing application to save and open Microsoft Office formats (.doc, .docx, .xls, .xlsx, .ppt, .pptx)
Internet Browsers - Google Chrome is highly recommended


Cookies MUST be enabled
Pop-ups MUST be allowed (Pop-up Blocker disabled)

The Kindle Reader App or VitalSource Bookshelf App are needed for many of our courses (No special equipment needed. This can be downloaded for FREE onto your computer.)
PowerPoint Viewer (if you do not have PowerPoint)
QuickTime, Windows Media Player &/or Real Player
MAC Software Requirements
Operating Systems - Mac OS x 10 or higher with Windows
Mac office programs or a Word Processing application to save and open Microsoft Office formats (.doc, .docx, .xls, .xlsx, .ppt, .pptx)
Internet Browsers- Google Chrome is highly recommended


Cookies MUST be enabled
Pop-ups MUST be allowed (Pop-up Blocker disabled)

The Kindle Reader App or VitalSource Bookshelf App are needed for many of our courses (No special equipment needed. This can be downloaded for FREE onto your computer.)
PowerPoint Viewer (if you do not have PowerPoint)
Adobe PDF Reader
Apple QuickTime Media Player