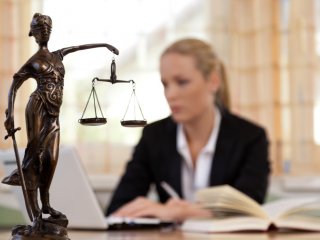 Description
Objectives
Outline
Materials
Certification
System Requirements
Watch a Demo
Paralegal Professional uses real-world examples to cover all the topics a student needs to know to prepare for their paralegal career. Topics covered include career development, ethics and professional responsibility, pretrial preparation, trial proceedings, and legal interviewing and investigation. Learn guidelines for performing legal research and analysis and standards for legal communications and writing. Take the steps to develop your Paralegal career today!
Prerequisite(s): None
After completing this course, you should be able to:
Identify the job description and classifications of the paralegal profession
Define law ethics, the categories of law, and the court system
List the steps involved in trial and pretrial procedures
Recall techniques for effective legal research and analysis
Recognize guidelines for legal writing and communications
Paralegal Professional Module 1
The Paralegal Career
What is a Paralegal?
Paralegal Tasks
Educational Options
Skills and Attributes
Career Opportunities
Compensation
Organizational Structure of Law Firms
Filing Procedures
Communications
Law Office Culture and Politics
Paralegal Professional Module 2
American Law and Court Systems
Regulation of Attorneys
Attorney Ethics
Regulation of Paralegals
Sources of American Law
Constitutional Law
Statutory Law
Administrative Law
Alternative Dispute Resolution
Basic Judicial Requirements
Federal and State Court Systems
Paralegal Professional Module 3
Online Legal Research and Analysis
Researching Case Law
Case Reporting System
Analyzing Case Law
Researching Constitutional and Statutory Law
Analyzing Statutory Law
Legal Resources on the Internet
Lexis and Westlaw
Alternative Legal Research Sources
Conducting Online Research
Paralegal Professional Module 4
Legal Writing and Civil Litigation
Receiving a Writing Assignment
Tools for Writers
Pleadings, Discovery and Motions
General Legal Correspondence
The Legal Memorandum
Preliminaries and Pleadings
Discovery of Electronic Evidence
Maintenance of Electronic Records
Pretrial Motions
Paralegal Professional Module 5
Interviews, Investigations and Trial Procedures
Planning for the Interview
Interviewing Skills
Interviewing Clients
Interviewing Witnesses
Planning and Conducting Investigations
Preparing for Trial
Jury Selection
Post-trial Motions and Procedures
Paralegal Professional Module 6
Criminal, Tort and Consumer Law
Defining Crime
Types of Crime
Cyber Crime
Prosecution
Intentional Torts
Negligence
Product Liability
Consumer Law
Paralegal Professional Module 7
Contracts, Insurance Law and Family Law
Requirements to Form a Valid Contract
Defenses to Contract Enforceability
Sales Contracts and Warranties
Contract Performance and Remedies
Online Contracting and Electronic Signatures
Intellectual Property Law
Real Property
Insurance Law
Family Law
Wills, Trusts and Estates
Paralegal Professional Module 8
Employment Law, Bankruptcy and Environmental Law
Forms of Business Organization
Agency Law
Employment Law
Bankruptcy Code
Liquidation Proceedings
Individual Repayment Plans
Reorganizations
Environmental Law
**Outlines are subject to change, as courses and materials are updated.**
Ed4Career is committed to being both environmentally conscious and making it easier for you to study! We're making your education mobile! All of our textbooks are now provided as eTextbooks. You can access them on your laptop, tablet, or mobile device and can study anytime, anywhere.
The move away from physical books to eTextbooks means you get the latest, most up-to-date version available. This also makes your training more accessible, so you can study anywhere you have your phone or tablet. The best part is that all materials are included in your training cost so there are NO extra fees for books!
Upon successful completion of our Paralegal Professional course, students will be prepared, in part, to sit for the NALA (National Association of Legal Assistants) certification exam to become a Certified Paralegal (CP). MUST fulfill additional requirements per NALA to sit for the exam.
Internet Connection
Broadband or High-Speed - DSL, Cable, and Wireless Connections
*Dial-Up internet connections will result in a diminished online experience. Classroom pages may load slowly and viewing large audio and video files may not be possible.
Hardware Requirements
Processor - 2GHz Processor or Higher
Memory - 1 GB RAM Minimum Recommended
PC Software Requirements
Operating Systems - Windows 7 or higher
Microsoft Office 2013 or higher. Also, you could use a general Word Processing application to save and open Microsoft Office formats (.doc, .docx, .xls, .xlsx, .ppt, .pptx)
Internet Browsers - Google Chrome is highly recommended


Cookies MUST be enabled
Pop-ups MUST be allowed (Pop-up Blocker disabled)

The Kindle Reader App or VitalSource Bookshelf App are needed for many of our courses (No special equipment needed. This can be downloaded for FREE onto your computer.)
PowerPoint Viewer (if you do not have PowerPoint)
QuickTime, Windows Media Player &/or Real Player
MAC Software Requirements
Operating Systems - Mac OS x 10 or higher with Windows
Mac office programs or a Word Processing application to save and open Microsoft Office formats (.doc, .docx, .xls, .xlsx, .ppt, .pptx)
Internet Browsers- Google Chrome is highly recommended


Cookies MUST be enabled
Pop-ups MUST be allowed (Pop-up Blocker disabled)

The Kindle Reader App or VitalSource Bookshelf App are needed for many of our courses (No special equipment needed. This can be downloaded for FREE onto your computer.)
PowerPoint Viewer (if you do not have PowerPoint)
Adobe PDF Reader
Apple QuickTime Media Player