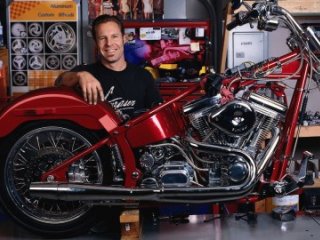 Description
Objectives
Outline
Materials
System Requirements
Watch a Demo
Start your career as a Motorcycle Technician with this comprehensive course covering the latest content on motorcycle models and technology. Gain detailed information on fuel injection, suspension systems, V-engine technology and more. As a bonus, ATV service and repair is also included because of the similarities in technology. This course provides the knowledge and skills to succeed in today's motorcycle technology field.
Prerequisite(s): None
After completing this course, you should be able to:
List tools, technologies, and safety techniques used by motorcycle technicians

Identify motorcycle engine components and correct inspect procedures

Recall the operation of motorcycle mechanical systems and electrical systems

Recognize components of the motorcycle's frame, suspension, brakes, and wheels

Define how to maintain a motorcycle and the steps for troubleshooting problems
Motorcycle Technician Module 1
Technology, Tools, and Safety
Motorcycle History
The Motorcycle Industry
Types of Motorcycles
Safety Practices
Repair Tools
Measuring Systems
Fasteners and Thread Repair
Motorcycle Technician Module 2
The Engine
Basic Engine Operation
Engine Ratings
Engine Configuration
Two-Stroke Engine Design
Four-Stroke Engine Design
Two-Stroke Engine Operation and Components
Four-Stroke Engine Operation and Components
Motorcycle Technician Module 3
Mechanical Systems
Engine Lubrication
Cooling Systems
Fuel Systems
Engine Management Systems
Gears and Drives
Clutch Systems
The Transmission
Motorcycle Technician Module 4
Engine Inspections
Diagnostic and Repair Procedures
Two-Stroke Top-End Inspections
Two-Stroke Lower-End Inspections
Four-Stroke Top-End Inspections
Four-Stroke Lower-End Inspections
Common Engine Failures
Engine Disassembly and Reassembly
Motorcycle Technician Module 5
Electrical Systems
Electrical Basics
Electrical Measurements
Electrical Schematics
Charging Systems
DC Electrical Circuits
Ignition System
Electric Starter Systems
Motorcycle Technician Module 6
Frames, Suspension, Brakes, and Wheels
Motorcycle Frames
Suspension Systems
Braking Systems
Motorcycle Wheels
Motorcycle Tires
Motorcycle Technician Module 7
Maintenance and Troubleshooting
Maintenance Intervals
Engine Maintenance
Chassis Maintenance
Storage Procedures
Emission Controls
Types of Problems
Problem-Solving Approaches
**Outlines are subject to change, as courses and materials are updated.**
Ed4Career is committed to being both environmentally conscious and making it easier for you to study! We're making your education mobile! All of our textbooks are now provided as eTextbooks. You can access them on your laptop, tablet, or mobile device and can study anytime, anywhere.
The move away from physical books to eTextbooks means you get the latest, most up-to-date version available. This also makes your training more accessible, so you can study anywhere you have your phone or tablet. The best part is that all materials are included in your training cost so there are NO extra fees for books!
Internet Connection
Broadband or High-Speed - DSL, Cable, and Wireless Connections
*Dial-Up internet connections will result in a diminished online experience. Classroom pages may load slowly and viewing large audio and video files may not be possible.
Hardware Requirements
Processor - 2GHz Processor or Higher
Memory - 1 GB RAM Minimum Recommended
PC Software Requirements
Operating Systems - Windows 7 or higher
Microsoft Office 2013 or higher. Also, you could use a general Word Processing application to save and open Microsoft Office formats (.doc, .docx, .xls, .xlsx, .ppt, .pptx)
Internet Browsers - Google Chrome is highly recommended


Cookies MUST be enabled
Pop-ups MUST be allowed (Pop-up Blocker disabled)

The Kindle Reader App or VitalSource Bookshelf App are needed for many of our courses (No special equipment needed. This can be downloaded for FREE onto your computer.)
PowerPoint Viewer (if you do not have PowerPoint)
QuickTime, Windows Media Player &/or Real Player
MAC Software Requirements
Operating Systems - Mac OS x 10 or higher with Windows
Mac office programs or a Word Processing application to save and open Microsoft Office formats (.doc, .docx, .xls, .xlsx, .ppt, .pptx)
Internet Browsers- Google Chrome is highly recommended


Cookies MUST be enabled
Pop-ups MUST be allowed (Pop-up Blocker disabled)

The Kindle Reader App or VitalSource Bookshelf App are needed for many of our courses (No special equipment needed. This can be downloaded for FREE onto your computer.)
PowerPoint Viewer (if you do not have PowerPoint)
Adobe PDF Reader
Apple QuickTime Media Player