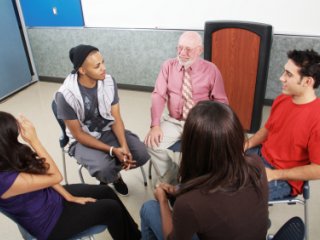 Description
Objectives
Outline
Materials
Certification
System Requirements
Watch a Demo
This Mental Health Technician course provides a solid background in mental health so you can work comfortably with clients who exhibit both effective and maladaptive behaviors. Nurses, case managers, psychiatric technicians, direct care providers, and other health care professionals will increase their awareness and understanding of a holistic view of mental health care with this comprehensive online training program. A variety of therapies and treatments are explored to assist in dealing with psychological or psychosocial problems, such as substance use conditions, medical illnesses, developmental delays and disabilities, and social stressors such as poverty, domestic violence, and homelessness. 
Prerequisite(s): None
After completing this course, you should be able to:
Recall the history and current trends of mental healthcare

Name the characteristics of common psychiatric disorders

Define human behavior and different elements affecting it

Identify methods for assisting those suffering from loss of life

Recognize legalities related to the mental health office 
Mental Health Technician Module 1
Mental Health Care: Past and Present   
The History of Mental Health Care
Early Years
19th Century United States
20th and 21st Centuries
Current Mental Health Care Systems
Care Settings
Delivery of Community Mental Health Services
Client Populations
Ethical and Legal Issues
Mental Health Technician Module 2  
Theories and Therapies
Sociocultural Issues
Influences of Culture
Cultural Assessment
Historical Theories
Developmental Theories and Therapies
Behavioral Theories and Therapies
Humanistic Theories and Therapies
Cognitive Theories and Therapies
Body-Based CAM Therapies
Energy-Based CAM Therapies
Mental Health Technician Module 3
Principles and Skills of Mental Health Care  
Psychotherapeutic Drug Therapy
Classification of Psychotherapeutic Drugs
Client Care Guidelines
Skills for Mental Health Care
Principles and Practices for Caregivers
Mental Health Assessment Skills
Mental Health Treatment Plan
The Health History
Mental Status Assessment
Mental Health Technician Module 4
Therapeutic Environment    
Theories and Characteristics of Communication
Levels of Communication
Dynamics of the Therapeutic Relationship
Characteristics of the Therapeutic Relationship
Roles of the Caregiver
Problems Encountered in the Therapeutic Relationship
Use of Inpatient Setting
Goals of the Therapeutic Environment
The Therapeutic Environment and Client Needs
Mental Health Technician Module 5
Childhood to Adulthood  
Normal Childhood Development
Environmental Problems
Emotional Problems
Behavioral Problems
Mental Health Problems of Adolescence
Therapeutic Interventions
Adult Growth and Development
Mental Health Problems of Adults
Mental Health Technician Module 6
Cognitive Impairment and Managing Anxiety
Overview of Aging
Common Problems of Older Adults
Cognitive Impairment
Alzheimer's Disease
Dementia
Types of Anxiety
Stages of Dying
Hospice Care
Mental Health Technician Module 7  
Illnesses and Depression
The Nature of Illness
The Hospitalization Experience
Loss and Grief
The Dying Process
Theories Relating to Emotions and Their Disorders
Emotions Throughout the Life Cycle
Mood Disorders
Mental Health Technician Module 8  
Physical and Dissociative Issues
Role of Emotions in Health
Anxiety and Stress
Somatic Symptom Disorders
Eating Disorders
Sleep-Wake Disorders
Abuse, Neglect, and Exploitation Within the Community
Continuum of Self-Concept Responses
Self-Concept Throughout the Life Cycle
Mental Health Technician Module 9  
Anger, Outward and Inward Focused Emotions
Theories of Anger and Aggression
The Cycle of Assault
Anger-Control Disorders
Social Factors and Violence
Mental Health Disorders Relating to Violence
Impact of Suicide on Society
Dynamics and Theories of Suicide
Suicide Throughout the Life Cycle
Mental Health Technician Module 10  
Substance, Sexual, and Personality Disorders
Role of Chemicals in Society
Categories of Abused Substances
Characteristics of Substance Use and Abuse
Sexuality Throughout the Life Cycle
Modes of Sexual Expression
Psychosexual Disorders
Personality Throughout the Life Cycle
Theories Relating to Personality Disorders
Mental Health Technician Module 11  
Schizophrenia and Chronic Mental Health Disorders
Psychoses Throughout the Life Cycle
Theories Relating to Psychoses
Psychotic Disorders
Public Policy and Mental Health
Experience of Chronic Mental Illness
Special Populations
Challenges for the Future
Change and Mental Health Clients
**Outlines are subject to change, as courses and materials are updated.**
Ed4Career is committed to being both environmentally conscious and making it easier for you to study! We're making your education mobile! All of our textbooks are now provided as eTextbooks. You can access them on your laptop, tablet, or mobile device and can study anytime, anywhere.
The move away from physical books to eTextbooks means you get the latest, most up-to-date version available. This also makes your training more accessible, so you can study anywhere you have your phone or tablet. The best part is that all materials are included in your training cost so there are NO extra fees for books!
Upon successful completion of our Mental Health Technician course, students will be prepared for an entry-level position in a mental health setting and will be prepared to sit for the NCCB national certification exam to become a Certified Mental Health Technician (CMHT).
Internet Connection
Broadband or High-Speed - DSL, Cable, and Wireless Connections
*Dial-Up internet connections will result in a diminished online experience. Classroom pages may load slowly and viewing large audio and video files may not be possible.
Hardware Requirements
Processor - 2GHz Processor or Higher
Memory - 1 GB RAM Minimum Recommended
PC Software Requirements
Operating Systems - Windows 7 or higher
Microsoft Office 2013 or higher. Also, you could use a general Word Processing application to save and open Microsoft Office formats (.doc, .docx, .xls, .xlsx, .ppt, .pptx)
Internet Browsers - Google Chrome is highly recommended


Cookies MUST be enabled
Pop-ups MUST be allowed (Pop-up Blocker disabled)

The Kindle Reader App or VitalSource Bookshelf App are needed for many of our courses (No special equipment needed. This can be downloaded for FREE onto your computer.)
PowerPoint Viewer (if you do not have PowerPoint)
QuickTime, Windows Media Player &/or Real Player
MAC Software Requirements
Operating Systems - Mac OS x 10 or higher with Windows
Mac office programs or a Word Processing application to save and open Microsoft Office formats (.doc, .docx, .xls, .xlsx, .ppt, .pptx)
Internet Browsers- Google Chrome is highly recommended


Cookies MUST be enabled
Pop-ups MUST be allowed (Pop-up Blocker disabled)

The Kindle Reader App or VitalSource Bookshelf App are needed for many of our courses (No special equipment needed. This can be downloaded for FREE onto your computer.)
PowerPoint Viewer (if you do not have PowerPoint)
Adobe PDF Reader
Apple QuickTime Media Player