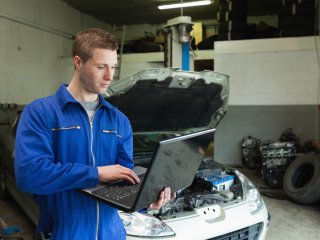 Description
Objectives
Outline
Materials
System Requirements
Watch a Demo
Our Medium/Heavy Diesel Automotive Technician three-part course series covers industry trends and current technology to provide an in-depth guide to highway diesel engines and their management. This series prepares entry-level and experienced technicians alike for a successful career as a Medium/Heavy Diesel Automotive Technician by outlining the role of the truck technician, industry tools and standards for safety, and steps for diagnosing and servicing a full range of diesel engines. Learn the necessary knowledge to gain employment in the automotive industry with up-to-date content including the principles and practices underlying current and proposed ASE and NATEF tasks and the most current diesel engine management electronics used in the industry. This series provides everything a student needs to know to diagnose, service, and maintain diesel engine systems.  
After completing this course, you should be able to:
Define basic chemistry and combustion principles
Identify diesel fuel characteristics and subsystems
List components of fuel injection and principles of governing
Recall the components and function of EUI systems
Recognize the steps for diagnosing and managing common rail systems
Medium / Heavy Diesel Automotive Technician Level 2 Module 1
Diesel Fuel Characteristics and Subsystems
Chemistry and Combustion
Properties of Common Elements
Properties of Mixtures and Compounds
Combustion Cycle in Diesel Engine
Fuel Terminology
Petroleum
Fuel Storage, Deterioration, Performance
Fuel Subsystem Objectives
Fuel Tanks
Fuel Filters
Fuel Charging/Transfer Pumps
Complete Fuel Circuit
Medium / Heavy Diesel Automotive Technician Level 2 Module 2
Diesel Fuel Injection
Governor Principles
Delivery, Injection, and Combustion
Governing Objectives
Injector Nozzles
Single and Multiple Orifice Nozzles
Nozzle Troubleshooting
Port-Helix Metering Injection Pumps
Injection Pump Components
Governor Trim Devices
Timing Injection Pumps to Engine
Phasing and Calibration
Electronic Port-Helix Metering
Medium / Heavy Diesel Automotive Technician Level 2 Module 3
Rotary Distributor Pumps
Inlet-Metering Rotary Distributor Pumps
Roosa Master
Opposed-Plunger, Inlet-Metering Injection Pumps
Sleeve-Metering Rotary Distributor Pumps
Sleeve-Metering, Single Plunger Distributor Pumps
VE Pump Electronic Controls
Medium / Heavy Diesel Automotive Technician Level 2 Module 4
EUI Systems
Single-Actuator EUI Systems
ECM
EUI Operations
Calibration Codes
Understanding IRT
Multiple Injection Events
Dual Actuator EUI Systems
Input Circuit
Output Circuit
Management Electronics
Installation of Delphi E3 EUI
Bench Testing E3 Injectors
Medium / Heavy Diesel Automotive Technician Level 2 Module 5
Electronic Unit Pump Systems
Caterpillar and Navistar HEUI
Principles of Operation
Fuel Supply System
Injection Actuation System
HEUI Injector
HEUI Electronic Management
HEUI Diagnostics
Fuel Subsystem
Input Circuit
Engine Controllers
Management Electronics
Cummins HPI-TP
Medium / Heavy Diesel Automotive Technician Level 2 Module 6
Common Rail Systems
CR Subsystems and Components
CR Management Electronics
CR Fuel Routing Circuit
Diagnosing CR System Problems
Amplified Common Rail Systems
ACRS Applications and Generations
ACRS Circuit Layout
ACRS HADI
ACRS Service Procedures
**Outlines are subject to change, as courses and materials are updated.**
Ed4Career is committed to being both environmentally conscious and making it easier for you to study! We're making your education mobile! All of our textbooks are now provided as eTextbooks. You can access them on your laptop, tablet, or mobile device and can study anytime, anywhere.
The move away from physical books to eTextbooks means you get the latest, most up-to-date version available. This also makes your training more accessible, so you can study anywhere you have your phone or tablet. The best part is that all materials are included in your training cost so there are NO extra fees for books!
Internet Connection
Broadband or High-Speed - DSL, Cable, and Wireless Connections
*Dial-Up internet connections will result in a diminished online experience. Classroom pages may load slowly and viewing large audio and video files may not be possible.
Hardware Requirements
Processor - 2GHz Processor or Higher
Memory - 1 GB RAM Minimum Recommended
PC Software Requirements
Operating Systems - Windows 7 or higher
Microsoft Office 2013 or higher. Also, you could use a general Word Processing application to save and open Microsoft Office formats (.doc, .docx, .xls, .xlsx, .ppt, .pptx)
Internet Browsers - Google Chrome is highly recommended


Cookies MUST be enabled
Pop-ups MUST be allowed (Pop-up Blocker disabled)

The Kindle Reader App or VitalSource Bookshelf App are needed for many of our courses (No special equipment needed. This can be downloaded for FREE onto your computer.)
PowerPoint Viewer (if you do not have PowerPoint)
QuickTime, Windows Media Player &/or Real Player
MAC Software Requirements
Operating Systems - Mac OS x 10 or higher with Windows
Mac office programs or a Word Processing application to save and open Microsoft Office formats (.doc, .docx, .xls, .xlsx, .ppt, .pptx)
Internet Browsers- Google Chrome is highly recommended


Cookies MUST be enabled
Pop-ups MUST be allowed (Pop-up Blocker disabled)

The Kindle Reader App or VitalSource Bookshelf App are needed for many of our courses (No special equipment needed. This can be downloaded for FREE onto your computer.)
PowerPoint Viewer (if you do not have PowerPoint)
Adobe PDF Reader
Apple QuickTime Media Player