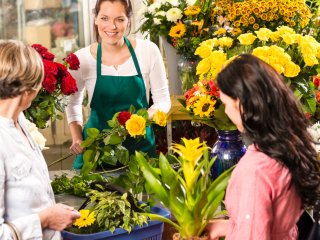 Description
Objectives
Outline
Materials
Certification
System Requirements
Watch a Demo
Our Floral Design course prepares students for a career designing floral arrangements and running a successful florist business. The course balances theory with practice, covering the history of design, artistic elements, floral anatomy, and nomenclature, along with techniques, tools, and specialties. Students will be prepared for the real business world with discussions on distribution, marketing, advertising, and the other industry-specific issues needed for success in the field.
Prerequisite(s): None
After completing this course, you should be able to:
Identify steps for harvesting and caring for flowers
Recall ways to design and compose flower arrangements for special occasions and life events
Recognize the tools and containers needed for floral arrangements
List the steps for cutting flowers properly and how to increase vase life
Identify the history of floral design throughout civilizations 
Floral Design Module 1   
Harvesting and Care
Harvest Distribution
Flower Retailing
Product Presentation
Shop Layout
Careers
Continuing Education
Flower Nomenclature
Inflorescence Patterns
Postharvest Physiology
Metabolic Processes
Care and Handling
Refrigeration
Floral Design Module 2   
Design and Composition
Design and Style
Harmony and Unity
Color Schemes
Physiological Effects of Color
Balance
Proportion
Scale
Focal Point and Rhythm
Line and Form
Space and Depth
Texture
Fragrance
Floral Design Module 3    
Tools and Containers
Mechanics of Arrangement
Foundation
Wiring
Flower and Foliage Forms
Flower Shape Groups
Mixing Forms
Shapes of Floral Arrangements
Oriental Style
European Style
Geometric Design
Western Line Design
Knives and Clippers
Floral Design Module 4   
Special Occasions
Holidays
Expressing Sentiments
Seasonal Themes
Novelty Designs
Flowers to Wear
Corsages
Boutonnieres
Accessorizing Designs
Everlasting Design
Artificial Flowers and Foliage
Silk Flowers
Dried and Preserved Plant Material
Floral Design Module 5   
Oriental Style of Design
History of Floral Design
Flower Art in Ancient Civilizations
Egyptian Period
Greek Period
Sacred Lotus Flower
European Periods
Clean Lines of Nature
Simplicity
Symbolism
Careful Placement
Symbolic of Nature
Floral Design Module 6  
Weddings and Funeral Flowers
Contemporary Designs and Techniques
Classic-Mass Design
Traditional European Period Style
Mille Fleurs Design
Wedding Flowers
Floral Romance
Promotion and Advertising
Wedding Consultation
Sympathy Flowers
Trends and Regional Differences
Casket Sprays
Easel Sprays
Floral Design Module 7 
Flowers and Foliage
Cut Flowers
Plant Nomenclature
Hybrids
Cultivar
Pronunciation
Common Names
Techniques to Increase Vase Life
Conifer Greens
Grasses
Herbs
Bamboo
Leafy Stems
**Outlines are subject to change, as courses and materials are updated.**
Ed4Career is committed to being both environmentally conscious and making it easier for you to study! We're making your education mobile! All of our textbooks are now provided as eTextbooks. You can access them on your laptop, tablet, or mobile device and can study anytime, anywhere.
The move away from physical books to eTextbooks means you get the latest, most up-to-date version available. This also makes your training more accessible, so you can study anywhere you have your phone or tablet. The best part is that all materials are included in your training cost so there are NO extra fees for books!
Upon successful completion this course, students will be prepared for an entry-level position in the field and to sit for the NCCB national certification exam to become a Certified Floral Design Associate (CFDA).
Internet Connection
Broadband or High-Speed - DSL, Cable, and Wireless Connections
*Dial-Up internet connections will result in a diminished online experience. Classroom pages may load slowly and viewing large audio and video files may not be possible.
Hardware Requirements
Processor - 2GHz Processor or Higher
Memory - 1 GB RAM Minimum Recommended
PC Software Requirements
Operating Systems - Windows 7 or higher
Microsoft Office 2013 or higher. Also, you could use a general Word Processing application to save and open Microsoft Office formats (.doc, .docx, .xls, .xlsx, .ppt, .pptx)
Internet Browsers - Google Chrome is highly recommended


Cookies MUST be enabled
Pop-ups MUST be allowed (Pop-up Blocker disabled)

The Kindle Reader App or VitalSource Bookshelf App are needed for many of our courses (No special equipment needed. This can be downloaded for FREE onto your computer.)
PowerPoint Viewer (if you do not have PowerPoint)
QuickTime, Windows Media Player &/or Real Player
MAC Software Requirements
Operating Systems - Mac OS x 10 or higher with Windows
Mac office programs or a Word Processing application to save and open Microsoft Office formats (.doc, .docx, .xls, .xlsx, .ppt, .pptx)
Internet Browsers- Google Chrome is highly recommended


Cookies MUST be enabled
Pop-ups MUST be allowed (Pop-up Blocker disabled)

The Kindle Reader App or VitalSource Bookshelf App are needed for many of our courses (No special equipment needed. This can be downloaded for FREE onto your computer.)
PowerPoint Viewer (if you do not have PowerPoint)
Adobe PDF Reader
Apple QuickTime Media Player