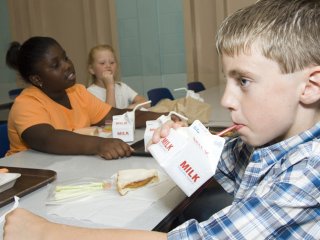 Description
Objectives
Outline
Materials
System Requirements
Watch a Demo
Our Child Health, Safety, and Nutrition course explores the role of early childhood educators in fulfilling the nutrition, health and safety needs of young children in their care. This course identifies the professional standards of the field and discusses best practices for applying them in the early care setting.  Students will learn how to teach healthy practices and to promote the overall wellness of children. Our Child Health, Safety, and Nutrition course is for anyone who works in a role that touches children's lives. The material is based on the most current research and reflects the latest developments in health, safety and nutrition as well as their application in multiple settings.
Prerequisite(s): None
After completing this course, you should be able to:
Define the principles of integrating a healthy childhood lifestyle to achieve optimal growth and development
List the basics of infectious diseases and how they affect health
Identify the methods for maintaining a safe environment which reduces the risk of injury
Recall the procedures for assessing social and emotional development of children
Recognize the standards of nutrition and the process of planning healthy meals
Child Health, Safety and Nutrition Module 1
Children's Well-Being and Health Observations
Health, Safety, and Nutrition
Children's Growth and Development
Promoting a Healthy Lifestyle
Promoting Children's Health
Observation as a Screening Tool
Daily Health Checks
Family Involvement
Health Education
Child Health, Safety and Nutrition Module 2
Health Assessments and Special Medical Conditions
Health Records
Screening Procedures
Referrals
Inclusive Education: Supporting Children's Success
Common Chronic Diseases
Chronic Medical Conditions
Child Health, Safety and Nutrition Module 3
Infectious Process and Childhood Illnesses
Risk Factors
Communicable Illness
Stages of Illness
Control Measures
Common Communicable Childhood Illnesses
Common Acute Childhood Illnesses
Child Health, Safety and Nutrition Module 4
High-Quality Environments and Safety Management
Identifying High-Quality Programs
Early Childhood Program Licensure
Features of High-Quality Programs
Guidelines for Safe Environments
Safety Management
Risk Management
Implementing Safety Practices
Emergency and Disaster Preparedness
Child Health, Safety and Nutrition Module 5
Keeping Children Safe
Responding to Medical Emergencies
Emergency Care vs. First Aid
Discipline vs. Punishment
Abuse and Neglect
Understanding the Risk Factors for Maltreatment
Reporting Laws
Family Involvement in Health and Safety Education
Teacher Inservice in Health and Safety Education
Effective Instructional Design
Activity Plans
Child Health, Safety and Nutrition Module 6
Food and Nutrients: Basic Concepts
Nutrition Guidelines
MyPlate
Food Labels
Carbohydrates, Fats, and Proteins
Children and At-Risk Nutrients
Proteins
Vitamins and Minerals
Water and Growth
Child Health, Safety and Nutrition Module 7
Nutrition and the Young Child
Feeding Infants
Meeting the Infant's Nutritional Needs for Growth and Brain Development
Feeding Time for the Infant
Introducing Semi-Sold Foods
Feeding Toddlers, Preschoolers, and School-Age Children
Challenges of Feeding
Promoting Healthy Eating Habits
Child Health, Safety and Nutrition Module 8
Developing Menus and Food Safety 
Developing the Menu
Nutritious Snacks
Planning the Menu Within Budget
Food Safety
Food-Related Illness
Hazard Analysis and Critical Control Point
Food-Borne Illnesses
Rationale for Teaching Children about Nutrition
Developing Lesson Plans for Nutrition Activities
**Outlines are subject to change, as courses and materials are updated.**
Ed4Career is committed to being both environmentally conscious and making it easier for you to study! We're making your education mobile! All of our textbooks are now provided as eTextbooks. You can access them on your laptop, tablet, or mobile device and can study anytime, anywhere.
The move away from physical books to eTextbooks means you get the latest, most up-to-date version available. This also makes your training more accessible, so you can study anywhere you have your phone or tablet. The best part is that all materials are included in your training cost so there are NO extra fees for books!
Internet Connection
Broadband or High-Speed - DSL, Cable, and Wireless Connections
*Dial-Up internet connections will result in a diminished online experience. Classroom pages may load slowly and viewing large audio and video files may not be possible.
Hardware Requirements
Processor - 2GHz Processor or Higher
Memory - 1 GB RAM Minimum Recommended
PC Software Requirements
Operating Systems - Windows 7 or higher
Microsoft Office 2013 or higher. Also, you could use a general Word Processing application to save and open Microsoft Office formats (.doc, .docx, .xls, .xlsx, .ppt, .pptx)
Internet Browsers - Google Chrome is highly recommended


Cookies MUST be enabled
Pop-ups MUST be allowed (Pop-up Blocker disabled)

The Kindle Reader App or VitalSource Bookshelf App are needed for many of our courses (No special equipment needed. This can be downloaded for FREE onto your computer.)
PowerPoint Viewer (if you do not have PowerPoint)
QuickTime, Windows Media Player &/or Real Player
MAC Software Requirements
Operating Systems - Mac OS x 10 or higher with Windows
Mac office programs or a Word Processing application to save and open Microsoft Office formats (.doc, .docx, .xls, .xlsx, .ppt, .pptx)
Internet Browsers- Google Chrome is highly recommended


Cookies MUST be enabled
Pop-ups MUST be allowed (Pop-up Blocker disabled)

The Kindle Reader App or VitalSource Bookshelf App are needed for many of our courses (No special equipment needed. This can be downloaded for FREE onto your computer.)
PowerPoint Viewer (if you do not have PowerPoint)
Adobe PDF Reader
Apple QuickTime Media Player