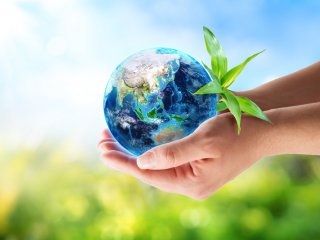 Description
Objectives
Outline
Materials
System Requirements
Watch a Demo
Become an Alternative Energy Specialist and learn ways to help conserve, reduce, reuse, recycle, and thus minimize our impact on the planet. Through this "entry-level" green course you will learn that even small changes make a difference and that going green is good for our health, the planet, and even our budgets. In this Alternative Energy Specialist course, we will examine the history of sustainability practices and challenges we currently face. You'll be introduced to the underlying components, installation, and implementation of solar energy, wind energy, photovoltaic systems, and geothermal systems. 
Prerequisite(s): None
After completing this course, you should be able to:
Recall ways to implement sustainability
Identify basic solutions for climate change issues, water distribution and consumption, ecosystems, and pollution
List sustainability practices in relation to food, products, waste, and recycling
Recognize how to install and operate photovoltaic, solar and wind energy, and geothermal systems
Recall the fundamentals of biomass products and fuel cell composition
Alternative Energy Specialist Module 1
History of Sustainability
19th Century Environmentalism
International Concerns
Ozone
Ecology
Environmental Justice
Natural Systems
Earth Layers and Rock Cycle
Organisms and Ecosystems
Alternative Energy Specialist Module 2
Energy and Global Climate Change 
National and Regional Sustainability Planning
Local Sustainability Measurement
Small Towns and Sustainability
World Energy Production and Consumption
Green Energy
Nuclear Energy
Ocean Acidification
Greenhouse Gases
Climate Action Plans
Alternative Energy Specialist Module 3
Water, Food, and Green Building
Sources of Water Pollution
Water Management and Conservation
Water Quality
Modern Agriculture
Meat Production
LEED Building Rating Systems
Energy and Atmospheric Health
Green Building Policy
Alternative Energy Specialist Module 4
Transportation and Pollution
Transportation Options
Roads
Mass Transit
Understanding Pollution Distribution
The US Approach to Pollution
Sewage Treatment
Garbage and Recycling
Alternative Energy Specialist Module 5
Environmental Justice and Sustainability Planning
Social Justice
Civil Rights
Lead Pollution
US EPA
Exporting Environmental Problems
Community Stakeholders
Green Regional Development
Sustainable Development
Globalization
Alternative Energy Specialist Module 6
Economics and Organizational Sustainability Management 
Social and Economic Theories
Environmental Impact Assessment
Environmental Ethics
Total Quality Management
Green Consumers
Sustainability Reporting
Sustainability College Curriculum
External Benchmarking
Internal Initiatives
Alternative Energy Specialist Module 7
Solar Energy
History of Solar Thermal Systems
Feasibility of Solar Thermal Systems
Economics and Performance of Solar Thermal Systems
Passive Systems
Active Systems
Solar Collectors
Solar Thermal System Installation
Control Strategies for Solar Thermal Systems
Filling and Starting Up the System
Various Applications for Solar Thermal Systems
Alternative Energy Specialist Module 8
Photovoltaic
Solar Photovoltaics on an Atomic Level
Photovoltaics and Electric Principles
Photovoltaic Components
Photovoltaic System Configurations
Utilizing Solar Resources
Photovoltaic System Wiring
Grounding Requirements
Installing Photovoltaic Systems
Alternative Energy Specialist Module 9
Wind Energy
History of Wind Power
Different Types of Wind Turbines
Model Selection
Zoning Considerations
Correct Sizing
Installation and Maintenance Issues
Large Scale Turbines
Proper Site Selection
Safety Practices for Large-Scale Wind Turbines
Alternative Energy Specialist Module 10
Geothermal
Geothermal Refrigeration System
Types of Configurations of Geothermal Loops
Open-Loop Configurations
Closed-Loop Configurations
Proper Sizing Procedures
Load Calculations
Heat Loss Calculations
Heat Gain Calculation
Duct Sizing
Alternative Energy Specialist Module 11
Biomass
Installing Geothermal Systems
Start Up Procedures
Using Biomass as a Heating Source
Applications for Biomass Burners
Wood, Corn, and Pellet Stoves
Outdoor Boilers
Indoor Boilers and Furnaces
Alternative Energy Specialist Module 12
Fuel Cells and CHP
What is a Fuel Cell?
Fuel Cell Composition
Fuel Cell Installation
Fuel Cell Maintenance
CHP Applications
Design Guidelines
System Costs
Maintenance of CHP Systems
 
**Outlines are subject to change, as courses and materials are updated.**
Ed4Career is committed to being both environmentally conscious and making it easier for you to study! We're making your education mobile! All of our textbooks are now provided as eTextbooks. You can access them on your laptop, tablet, or mobile device and can study anytime, anywhere.
The move away from physical books to eTextbooks means you get the latest, most up-to-date version available. This also makes your training more accessible, so you can study anywhere you have your phone or tablet. The best part is that all materials are included in your training cost so there are NO extra fees for books!
Internet Connection
Broadband or High-Speed - DSL, Cable, and Wireless Connections
*Dial-Up internet connections will result in a diminished online experience. Classroom pages may load slowly and viewing large audio and video files may not be possible.
Hardware Requirements
Processor - 2GHz Processor or Higher
Memory - 1 GB RAM Minimum Recommended
PC Software Requirements
Operating Systems - Windows 7 or higher
Microsoft Office 2013 or higher. Also, you could use a general Word Processing application to save and open Microsoft Office formats (.doc, .docx, .xls, .xlsx, .ppt, .pptx)
Internet Browsers - Google Chrome is highly recommended


Cookies MUST be enabled
Pop-ups MUST be allowed (Pop-up Blocker disabled)

The Kindle Reader App or VitalSource Bookshelf App are needed for many of our courses (No special equipment needed. This can be downloaded for FREE onto your computer.)
PowerPoint Viewer (if you do not have PowerPoint)
QuickTime, Windows Media Player &/or Real Player
MAC Software Requirements
Operating Systems - Mac OS x 10 or higher with Windows
Mac office programs or a Word Processing application to save and open Microsoft Office formats (.doc, .docx, .xls, .xlsx, .ppt, .pptx)
Internet Browsers- Google Chrome is highly recommended


Cookies MUST be enabled
Pop-ups MUST be allowed (Pop-up Blocker disabled)

The Kindle Reader App or VitalSource Bookshelf App are needed for many of our courses (No special equipment needed. This can be downloaded for FREE onto your computer.)
PowerPoint Viewer (if you do not have PowerPoint)
Adobe PDF Reader
Apple QuickTime Media Player