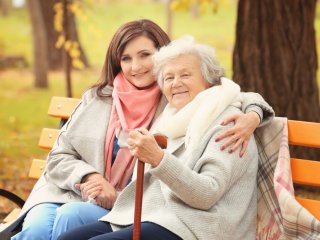 Description
Objectives
Outline
Materials
System Requirements
Watch a Demo
Aging & Society introduces you to gerontology in a compassionate way that helps you understand seniors and know how to work with them. This course combines sound academics with an empathetic view of the lives of older people. Our Aging & Society Course will help students understand the complex issues of social gerontology and aging by using a life course perspective that views aging as an unfolding and dynamic process.  We will combine a conceptual/theoretical and practical focus that will enable students both to understand the aging process and to make connections between social definitions of age and their own present and future lives.
Prerequisite(s): None
After completing this course, you should be able to:
Recall the characteristics of today's population aged 65 and older
Define concepts and theories to understand the aging process
Differentiate between the major theories of biological aging and patterns of illnesses in later life
Recognize how family variations and relationships support social functioning
Identify the effects of current technological and medical breakthroughs for older people
Aging & Society Module 1
The Growth of Social Gerontology
The Field of Gerontology
How is Aging Defined?
Person-Environment Perspective
Growth of the Older Population
Population Trends
Longevity in Health or Disease
Global Trends in Aging
Older Adults' Roles in Traditional Societies
Aging & Society Module 2
Social Consequences of Physical Aging
Biological Theories on Aging
Can Aging Be Reversed or Delayed?
Research on Physiological Changes with Age
Changes in Sensory Functions
Implications for the Future
Aging & Society Module 3
Managing Chronic Diseases and Cognitive Changes
Defining Health
Acute and Chronic Diseases
Heart Disease
Arthritis and Osteoporosis
Medication Use and Misuse
Intelligence and Aging
Process of Learning and Memory
Recall and Recognition
Enhancing Cognitive Abilities in Old Age
Wisdom and Creativity
Aging & Society Module 4
Mental Health and Intimacy
Stage Theories of Personality
Trait Theories of Personality
Self-Concept and Self-Esteem
Successful Aging
Mental Disorders Among Older Persons
Use of Mental Health Services
Attitudes and Beliefs About Sexuality in Later Life
Women and Men Physiological Changes
Aging & Society Module 5
Social Theories of Aging
Social Gerontological Theory Before 1961
The First Transformation of Theory
Disengagement Theory
Gerotranscendence Theory
Continuity Theory
Alternative Theoretical Perspectives
The Second Transformation of Theory
Aging & Society Module 6
Social Supports and Informal Caregiving
Older People Living Alone
Childless Older Adults
Sibling Relationships
Intergenerational Relationships
Who Are Informal Caregivers?
Trends Affecting Caregiving
The Costs of Informal Care
Supportive Services for Family Caregivers
Elder Mistreatment
Aging & Society Module 7
Social Interactions and Technology
Person-Environment Theories of Aging
Rural, Urban, and Suburban Areas
Relocation
Housing Patterns of Older People
Planned Housing
Technology and Older Adults
Smart Homes
Lifelong Learning and Distance Education
Health Information and Self-Monitoring
Brain Games
Aging & Society Module 8
Productive Aging
What is Productive Aging?
Retirement
Employment Status
Sources of Income and Economic Status
Patterns and Functions of Nonpaid Roles and Activities
Civic Engagement
Volunteerism
Political Participation
Aging & Society Module 9
Death, Dying, Bereavement
The Changing Context of Dying
The Dying Process
End-of-Life Care
The Right to Die
Bereavement, Grief, and Mourning Rituals
Widowhood
Perspectives on Race, Ethnicity, and Culture
Resilience of Elders of Color
Aging & Society Module 10
Social Policies to Address Social Problems
Rationale for a Focus on Older Women's Needs
Older Women's Economic Status
Older Women's Health and Social Status
The Aging Body
Factors Affecting the Development of Public Policies
Social Security and Supplemental Security Income
Federally Funded Social Services
Aging & Society Module 11
Health and Long-Term Care
Health Care Costs in the United States
Medicare
Medicaid
Benefits of the Affordable Care Act for Older Adults
Long-Term Care Services
The Federal Commission on Long-Term Care
**Outlines are subject to change, as courses and materials are updated.**
Ed4Career is committed to being both environmentally conscious and making it easier for you to study! We're making your education mobile! All of our textbooks are now provided as eTextbooks. You can access them on your laptop, tablet, or mobile device and can study anytime, anywhere.
The move away from physical books to eTextbooks means you get the latest, most up-to-date version available. This also makes your training more accessible, so you can study anywhere you have your phone or tablet. The best part is that all materials are included in your training cost so there are NO extra fees for books!
Internet Connection
Broadband or High-Speed - DSL, Cable, and Wireless Connections
*Dial-Up internet connections will result in a diminished online experience. Classroom pages may load slowly and viewing large audio and video files may not be possible.
Hardware Requirements
Processor - 2GHz Processor or Higher
Memory - 1 GB RAM Minimum Recommended
PC Software Requirements
Operating Systems - Windows 7 or higher
Microsoft Office 2013 or higher. Also, you could use a general Word Processing application to save and open Microsoft Office formats (.doc, .docx, .xls, .xlsx, .ppt, .pptx)
Internet Browsers - Google Chrome is highly recommended


Cookies MUST be enabled
Pop-ups MUST be allowed (Pop-up Blocker disabled)

The Kindle Reader App or VitalSource Bookshelf App are needed for many of our courses (No special equipment needed. This can be downloaded for FREE onto your computer.)
PowerPoint Viewer (if you do not have PowerPoint)
QuickTime, Windows Media Player &/or Real Player
MAC Software Requirements
Operating Systems - Mac OS x 10 or higher with Windows
Mac office programs or a Word Processing application to save and open Microsoft Office formats (.doc, .docx, .xls, .xlsx, .ppt, .pptx)
Internet Browsers- Google Chrome is highly recommended


Cookies MUST be enabled
Pop-ups MUST be allowed (Pop-up Blocker disabled)

The Kindle Reader App or VitalSource Bookshelf App are needed for many of our courses (No special equipment needed. This can be downloaded for FREE onto your computer.)
PowerPoint Viewer (if you do not have PowerPoint)
Adobe PDF Reader
Apple QuickTime Media Player