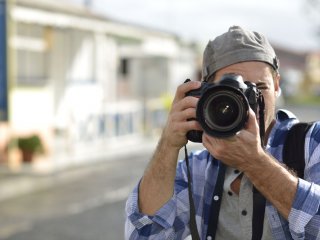 Description
Objectives
Outline
Materials
System Requirements
Watch a Demo
Photography is becoming an increasingly popular and exciting profession. These days, almost anyone can take stunning photographs after having learned the right techniques and gaining editing know-how. Our Photographer Entrepreneur Program will also teach you how to create the business you want.  
Professional Photography
This Professional Photography course reflects a comprehensive mix of scholarly and practical information. It covers every aspect of photography, from capture through to output, both digital and analogue. There is an emphasis on explaining the 'how to' of photography, but also includes in-depth coverage of the fundamental principles that govern the art, such as how light behaves, optics, and the basis of exposure. This course ensures that the student comes away with not only a good grasp of photographic technique, but also an in-depth understanding of the fundamentals that will help them to better understand how great photography is made. As such, it functions both as an excellent course for students of photography, and a great primer and reference for amateur enthusiasts.
NOTE: Adobe Photoshop is NOT included in this course. Students will need to have their own copy of this software installed on their computer.
Prerequisite(s): None
Start Your Own Business
Have you ever eaten a Mrs. Fields cookie? Used a MacBook? Listed to a podcast? Entrepreneurs brought these products to your world. People that start their own businesses and work for themselves are called entrepreneurs. For an entrepreneur the sky is the limit as far as earnings and potential success. An entrepreneur is someone who has recognized an opportunity to start a business that other people may not have noticed. Entrepreneurs can shape and create an opportunity where others see little or nothing -- or see it too early or too late. Our Start Your Own Business course will help you create the business you want. Throughout this course you will be working on your business plan and creating a quick comprehensive overview of the elements you want in your new business.
Prerequisite: None
Professional Photography
After completing this course, you should be able to:
Identify the basic principles of photography and camera anatomy
List the steps involved in processing photographs
Recall digital photography techniques, including composition
Recognize the basics of establishing depth of field, perspective, and lighting
Define techniques for improving your photographs, including corrective elements and special effects
Start Your Own Business
After completing this course, you should be able to:
Define entrepreneurship
List the steps for developing a business plan
Recall methods for marketing your business
Recognize the concepts behind financing strategies
Differentiate between potential strategies for growing your business
Professional Photography
Professional Photography Module 1
Camera Anatomy
Focusing and Setting the Exposure
Taking Your Picture
What Will You Photograph?
Shutter
Aperture
Choosing a Camera
Keeping a Camera Steady
Professional Photography Module 2
Lens and Exposure
Lens Focal Length
Focusing Lens
Focus and Depth of Field
Perspective
Guidelines for Buying a Lens
Exposure Basics
How to Meter
Responding to Light
Film and Sensor Speed
Using Filters
Professional Photography Module 3
Light, Color, and Film Negatives
Color: Additive or Subtractive
Color Characteristics
Color Balance
Adjusting Color with Film
How to Process Black-and-White Roll Film
Processing Black-and-White Roll Film Step by Step
How Film Processing Affects Your Picture
Exposure and Development: Under, Normal, Over
Professional Photography Module 4
Darkrooms and Digital Pictures
Black-and-White Printing
Controlling Contrast
Dodging and Burning
Toning for Color and Other Effects
Making a Color Print from a Negative
Hardware and Software
Capturing Detail
Channels
Importing Your Images
Professional Photography Module 5
Image Editing and Printing Digitally
Digital Post Processing
Adjusting Shape
Adjusting Color and Value
Editing Commands
Compositing
Printers
Printing Options
Displaying Your Work
Ethics: How Far Can You Go?
Professional Photography Module 6
Organizing and Lighting
Image Storage
Metadata: Data About Your Files
Arching Digital Images
Arching Film and Prints
Mounting a Print
Artificial Light
Outdoor and Indoor
Lighting with Flash
Portrait Lighting
Professional Photography Module 7
Extending the Image and View Camera
Using Scale
Multiple Images
Alternative Processes
Using Projections
How to Make a Close-Up Photograph
Zone System
View Camera Movements
Using a View Camera to Control the Image
Professional Photography Module 8
History of Photography
Framing the Subject
Backgrounds
Spot/Line
Shape/Pattern
Emphasis/Balance
Using Contrasts of Sharpness
Using Contrasts of Light and Dark
Placing the Subject within the Frame
The Invention of Photography
Photojournalism
Color Photography Arrives
Start Your Own Business
Start Your Own Business Module 1
Entrepreneurs and Entrepreneurship
Defining Entrepreneurship
Free-Enterprise System
What is a Small Business?
Paths to Enterprise Ownership
Benefits and Costs of Becoming an Entrepreneur
Lean Startup Methodology
What is a Business Plan?
Business Plan Components
Start Your Own Business Module 2
Creating Business and Exploring Your Market
What Defines a Business?
Business Opportunity Decision Process
Your Competitive Advantage
Determining the Value of a Business
Product Life Cycle
Customer Research
Segment and Industry Research
Market Positioning
Start Your Own Business Module 3
Marketing Mix and Smart Selling
The Marketing Mix
Product, Price, Place, Promotion
Advertising and Sales Promotion
Publicity Potential
Developing a Marketing Plan
Sales Call
Creating a Sales Force
Customer Relationship Management Systems
Start Your Own Business Module 4
Costs and Financial Statements
Start-Up Investment
Estimate Value
Fixed and Variable Costs
Calculating Critical Costs
Income Statements
The Balance Sheet
Financial Ratio Analysis
Balance Sheet Analysis
Start Your Own Business Module 5
Cash Flow, Taxes, and Financing Strategies
Cash Flow
Working Capital Cycle
Using a Cash Flow Statement
Capital Budgeting
Gifts and Grants
Debit and Equity Financing
Investing
Start Your Own Business Module 6
Legal Issues and Operating for Success
Business Legal Structures
Contracts
Commercial Law
Intellectual Property
Protecting Tangible Assets
Licenses, Permits, and Certificates
Production-Distribution Chain
Supply Chain Management
Defining Quality
Start Your Own Business Module 7
Management, Leadership, Financing, Licensing
The Entrepreneur as Leader
Business Management
Creating and Managing Organizational Culture
Ethical Leadership
Social Responsibility and Ethics
Focus Your Brand
Harvesting and Exiting Options
Creating Wealth by Selling a Profitable Business
**Outlines are subject to change, as courses and materials are updated.**
Ed4Career is committed to being both environmentally conscious and making it easier for you to study! We're making your education mobile! All of our textbooks are now provided as eTextbooks*. You can access them on your laptop, tablet, or mobile device and can study anytime, anywhere.
The move away from physical books to eTextbooks means you get the latest, most up-to-date version available. This also makes your training more accessible, so you can study anywhere you have your phone or tablet. The best part is that all materials are included in your training cost so there are NO extra fees for books!**
*A few courses still have physical materials.
 
Internet Connection
Broadband or High-Speed - DSL, Cable, and Wireless Connections
*Dial-Up internet connections will result in a diminished online experience. Classroom pages may load slowly and viewing large audio and video files may not be possible.
Hardware Requirements
Processor - 2GHz Processor or Higher
Memory - 1 GB RAM Minimum Recommended
PC Software Requirements
Operating Systems - Windows 7 or higher
Microsoft Office 2013 or higher. Also, you could use a general Word Processing application to save and open Microsoft Office formats (.doc, .docx, .xls, .xlsx, .ppt, .pptx)
Internet Browsers - Google Chrome is highly recommended

Cookies MUST be enabled
Pop-ups MUST be allowed (Pop-up Blocker disabled)

The Kindle Reader App or VitalSource Bookshelf App are needed for many of our courses (No special equipment needed. This can be downloaded for FREE onto your computer.)
PowerPoint Viewer (if you do not have PowerPoint)
QuickTime, Windows Media Player &/or Real Player
MAC Software Requirements
Operating Systems - Mac OS x 10 or higher with Windows
Mac office programs or a Word Processing application to save and open Microsoft Office formats (.doc, .docx, .xls, .xlsx, .ppt, .pptx)
Internet Browsers- Google Chrome is highly recommended

Cookies MUST be enabled
Pop-ups MUST be allowed (Pop-up Blocker disabled)

The Kindle Reader App or VitalSource Bookshelf App are needed for many of our courses (No special equipment needed. This can be downloaded for FREE onto your computer.)
PowerPoint Viewer (if you do not have PowerPoint)
Adobe PDF Reader
Apple QuickTime Media Player