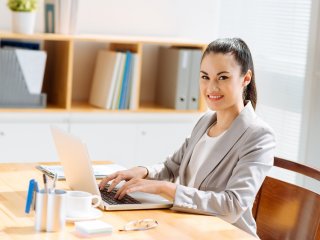 Category:
Business Management, Microsoft Office
Description
Objectives
Outline
Materials
Certification
System Requirements
Watch a Demo
Our online training in Administrative Assistant with Microsoft focuses on training individuals in the office support skills needed to excel in a corporate office environment.  With an emphasis on computer software applications, our Administrative Assistant program will give you the hands-on training will prepare you for a career in this competitive job market.
**Office 2016 is available upon request
Administrative Assistant
As an office professional, you only have to do one thing: everything! And there never seems to be enough time to do it all, much less learn how. But if you really want to ramp up your job performance – and add value to your employer – you need to take this Administrative Assistant course. This course offers an almost endless supply of savvy advice, great tips, proven tools, and powerful strategies for dealing with both everyday job responsibilities and requirements.
So whether you're brushing up your skills, keeping up with new developments in business, increasing your own marketability, or just starting a challenging and rewarding career, this comprehensive course is just the right thing to move your career forward!
Prerequisite: None
Microsoft® Office (MOS) 2019
If you're looking for a way to get up to speed quickly on the newest version of Microsoft Office, this course offers step-by-step instructions to make it easy. Office 2019 has new features and tools to master, and whether you're upgrading from an earlier version or encountering the Office applications for the first time, you'll appreciate this simplified approach.
This course covers:
Microsoft Word 2019
Microsoft Excel 2019
Microsoft PowerPoint 2019
Microsoft Outlook 2019
Microsoft Access 2019
Microsoft Publisher 2019
Microsoft Office holds more than 90 percent of the market for Windows-based productivity suites. Our MS Office 2019 course makes this technology easy to understand, even for those who are new to computers.
NOTE: This course does NOT include the MS Office programs themselves. Students will need to have Office 2019 already installed on their computers.
Administrative Assistant
After completing this course, you should be able to:
Identify general office tasks and procedures
Recognize types of office equipment and computer programs used in business
Describe the fundamentals of working with a team, communication skills and developing presentations
Recall record keeping procedures
Identify the basic requirements for bookkeeping and accounting in the office
Microsoft® Office (MOS) 2019
After completing this course, you should be able to:
Recall ways to create, edit, and print documents in Word
Recognize how to create and manage worksheets in Excel
Identify the steps to develop presentations in PowerPoint
List how to create and manage databases in Access
Identify the steps to manage email and calendars in Outlook
Describe ways to create professional publications with Publisher
Administrative Assistant
Administrative Assistant Module 1
Typing Practice & Improvement
Pre-Test Your Typing Ability
Finger Positioning Exercises
Typing Practice Games
Typing Progress Tracking
Improve Your Typing Skills
Increase Your Typing Speed
Administrative Assistant Module 2
The Workplace
Office Administrative
Employer Expectations
Employer/Employee Responsibilities
What is a Professional?
Your Professional Image
Business Etiquette
Administrative Assistant Module 3
Working Ethically
Goals and Accountability
Workstation Organization
Managing Workload
Life Management
Ethics: The Basics
Characteristics of Ethical Organizations
Making Ethical Choices
Working Ethically
Administrative Assistant Module 4
Developing Customer Focus
Teams at Work
Team Process
Contributing to the Team
Effective Teams and Team Challenges
Customer Focus
Customer Strategies
Customer Service Skills
Handling Difficult Situations
Administrative Assistant Module 5
Communication Skills
The Communication Process
Listening Skills
Verbal and Nonverbal Communication Skills
Written Communication Skills
Global Communication
Workplace Collaboration Tools
Telecommunications
Security Issues
Administrative Assistant Module 6
Presentations and Planning
Planning and Researching Presentations
Writing Presentations
Developing and Using Visual Aids
Practice and Delivering Presentations
Types of Meetings
Meeting Formats
Meeting Responsibilities
Administrative Assistant Module 7
Records Management
Value of Records
Storage Supplies, Equipment, Media
Records Storage Systems
Filing Procedures
Filing Procedures for Electronic Records
Preparing and Sending Outgoing Mail
Handling Incoming Mail
Administrative Assistant Module 8
Business Travels and Financials
Domestic Travel
International Travel
Cultural Differences
Travel Procedures
Financial Statements
Employee Payroll
Financial Forms and Transactions
Bank Reconciliation
Administrative Assistant Module 9
Career Success
Job Seeking
Job Interview Skills
Job Advancement and Changes
Leading and Managing
Leadership Traits
Leadership Styles
Leading People
**Outlines are subject to change, as courses and materials are updated.**
Microsoft® Office (MOS) 2019
Microsoft Office 2019 Module 1
Common Office Tasks
All About Office 365
Office Interface
Saving Your Files
Manipulating the Text
Handling Case or Capitalization
Entering Symbols and Foreign Characters
Undoing and Repeating Commands
Correcting Typos
AutoCorrect Command
Microsoft Office 2019 Module 2
Working With Word Part 1
Speed Techniques
Creating a New Document
Selecting Text
Laying Out Text and Pages
Numbering
Headers and Footers
Hyphenating Text
Word Styles
Constructing the Perfect Table
Neat Table Tricks
Microsoft Office 2019 Module 3
Working With Word Part 2
Spelling and Grammatical Errors
Finding and Replacing Text
Desktop Publishing with Word
Experimenting with Themes
Highlighting Parts of a Document
Track Changes
Reports and Scholarly Papers
Generating a Table of Contents
Compiling a Bibliography
Microsoft Office 2019 Module 4
Working With Excel
New Excel Workbook
Entering Data in a Workbook
Refining Your Worksheet
Selecting Cells
Deleting, Copying and Moving Data
Formulas and Functions
Laying Out a Worksheet
Analyzing Data
Managing Information Lists
Microsoft Office 2019 Module 5
Working With PowerPoint
Creating a New Presentation
Selecting, Moving and Deleting Slides
Themes and Slide Backgrounds
Choosing Slide Size
Footers and Headers on Slides
Transitions and Animations
Adding Audio
Adding Notes
Rehearsing and Timing
Microsoft Office 2019 Module 6
Working With Outlook
Outlook Folders
Categorizing Items
Searching for Stray Folder Items
Contacts Folder
Handling Email
Calendar
Scheduling Appointments and Events
Managing Time and Schedule
Tasks, Reminders and Notes
Microsoft Office 2019 Module 7
Working with Access
Tables and Queries
Forms
Creating a Database File
Designing a Database
Field Properties
Entering Data
Sorting
Querying
Filtering for Data
Microsoft Office 2019 Module 8
Working with Publisher
Introducing Frames
Creating a Publication
Redesigning a Publication
Formatting Text
Text Wraps
Placeholder Pictures
Frames
Decorating the Text
Design Checker
Microsoft Office 2019 Module 9
Working with Charts and Graphs
Creating a Chart
Saving a Chart as a Template
Chart Tricks
SmartArt Diagram
Handling Graphics and Photos
Touching Up a Picture
Drawing and Manipulating Lines, Shapes and Objects
WordArt
Microsoft Office 2019 Module 10
One Step Beyond
Customizing the Ribbon
Customizing the Quick Access Toolbar
Ways of Distributing Your Work
Working with Publisher
Printing a Publication
Filing Sharing and Collaborating
OneDrive
Sharing Files and Folders with Other

Ed4Career is committed to being both environmentally conscious and making it easier for you to study! We're making your education mobile! All of our textbooks are now provided as eTextbooks*. You can access them on your laptop, tablet, or mobile device and can study anytime, anywhere.
The move away from physical books to eTextbooks means you get the latest, most up-to-date version available. This also makes your training more accessible, so you can study anywhere you have your phone or tablet. The best part is that all materials are included in your training cost so there are NO extra fees for books!**
*A few courses still have physical materials.
 
Administrative Assistant
Upon successful completion of our Administrative Assistant course, students will be prepared for an entry-level job as an Administrative Assistant in an office setting and to sit for the NCCB national certification exam to become a Certified Administrative Assistant (CAA).
Microsoft® Office (MOS) 2019
After completing this course, you will be prepared for the Microsoft Office Specialist exams. The Microsoft Office Specialist Program has multiple levels. In order to quality for Microsoft Office Specialist Associate, you must complete any 3: • Excel Associate • Word Associate • Outlook Associate • PowerPoint Associate In order to quality for Microsoft Office Specialist Expert, you must already be an Microsoft Office Specialist Associate and complete any 2: • Access Expert • Word Expert • Excel Expert **Certification exams are not included in the cost of the course.**
** Certification exams are not included in the cost of the course.**
Internet Connection
Broadband or High-Speed - DSL, Cable, and Wireless Connections
*Dial-Up internet connections will result in a diminished online experience. Classroom pages may load slowly and viewing large audio and video files may not be possible.
Hardware Requirements
Processor - 2GHz Processor or Higher
Memory - 1 GB RAM Minimum Recommended
PC Software Requirements
Operating Systems - Windows 7 or higher
Microsoft Office 2013 or higher. Also, you could use a general Word Processing application to save and open Microsoft Office formats (.doc, .docx, .xls, .xlsx, .ppt, .pptx)
Internet Browsers - Google Chrome is highly recommended

Cookies MUST be enabled
Pop-ups MUST be allowed (Pop-up Blocker disabled)

The Kindle Reader App or VitalSource Bookshelf App are needed for many of our courses (No special equipment needed. This can be downloaded for FREE onto your computer.)
PowerPoint Viewer (if you do not have PowerPoint)
QuickTime, Windows Media Player &/or Real Player
MAC Software Requirements
Operating Systems - Mac OS x 10 or higher with Windows
Mac office programs or a Word Processing application to save and open Microsoft Office formats (.doc, .docx, .xls, .xlsx, .ppt, .pptx)
Internet Browsers- Google Chrome is highly recommended

Cookies MUST be enabled
Pop-ups MUST be allowed (Pop-up Blocker disabled)

The Kindle Reader App or VitalSource Bookshelf App are needed for many of our courses (No special equipment needed. This can be downloaded for FREE onto your computer.)
PowerPoint Viewer (if you do not have PowerPoint)
Adobe PDF Reader
Apple QuickTime Media Player