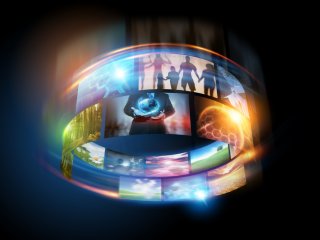 Course Type:
Instructor Led - 4 Weeks Long
Description
Objectives
Outline
Materials
System Requirements
Microsoft Office PowerPoint® 2016 gives you many ways to create and present your ideas in a visually appealing way. You will learn to create your own professional-looking presentation using custom shapes, animations, Smart Guides, and templates. You will learn to use Presenter View to show a full slide to your audience on one display while you view your slide notes and see upcoming slides on a second screen. You will also learn how to collaborate with colleagues by sharing your presentation electronically, easily managing version histories. This course shows you how to get started in PowerPoint, as well as the many new features found in PowerPoint 2016 like Tell Me, Smart Lookup, Screen Recording, and others.
* You have 4 weeks to complete this course from date of your enrollment.
** Course Subject to Change.
After completing this course, you should be able to:
List the steps to create a presentation from scratch, use templates, and add slides using various layouts
Identify the steps to insert and format text, images, videos, tables, and other media into the presentation
Recognize the steps for inserting animations, enhancing slide transitions, and organizing the presentation
Recall how to save, print, and share a presentation in various formats
Microsoft PowerPoint® 2016 Module 1
Getting Started in PowerPoint
Module one starts with the basics of PowerPoint, explains the PowerPoint window and ribbon, how to use different views, and how to navigate through the application. Next, the module shows you how to create a new presentation, add and delete slides, change slide layouts, and insert slides from other files. The module concludes by showing you how to use themes and templates, and how to insert and format text.
Starting a Presentation
Slide Structure and Layout
Choosing Designs and Using Templates
Using and Creating Themes
Inserting and Formatting Text
Using Smart Lookup and Tell Me
Microsoft PowerPoint® 2016 Module 2
Creating Visual Appeal
Module two shows you how to add design features and visual appeal to your presentation. You will learn to insert and format charts, graphs, and SmartArt to show data visually. Then, you will see how to insert and edit images, clip art, shapes, and objects onto each slide. Next, the module discusses how to add other media such as audio, video, hyperlinks, screen shots, and artistic effects. The module concludes by showing you how to add action to your presentation using animations and transitions.
Creating and Editing SmartArt
Inserting, Editing, and Formatting Images
Using WordArt
Inserting and Editing Audio, Video, and Hyperlinks
Using Animations and Transitions
Microsoft PowerPoint® 2016 Module 3
Organizing and Finalizing the Presentation
Module three illustrates how to organize and finalize your presentation. You will learn to use the Slide Sorter to group topics together and move slides within the presentation. Next, the module shows how to use Outline View to add new slides, enter content into existing slides, and promote or demote slides. You will then move onto see how the Slide Master, Note Master, and Handout Master formats PowerPoint at the macro-level. Finally, you will learn to complete your presentation through collaboration and presentation options.
Using Slide Sorter and Normal View
Using Outline View and Reading View
Using Slide, Note, and Handout Masters
Sharing Files and Using Comments
Recordings and Finalizing the Presentation
Microsoft PowerPoint® 2016 Module 4
Delivering and Sharing the Presentation
Module four discusses how to give presentations and collaborate with others. You will learn how to save the presentation in several formats, and how to create video presentations, slide shows, and broadcasts. The module shows you how to create paper versions of the presentation in several formats and how to customize PowerPoint options. Finally, you will learn how to analyze your audience, adapt your presentation to audience needs, and give a professional presentation.
Presenting the Slide Show
Using Presenter View
Creating PDF's, Automated Slide Shows, Videos, and Broadcasts
Printing Slides, Notes, Outlines, and Handouts
Customizing PowerPoint Options
Ed4Career is committed to being both environmentally conscious and making it easier for you to study! We're making your education mobile! All of our textbooks are now provided as eTextbooks. You can access them on your laptop, tablet, or mobile device and can study anytime, anywhere.
The move away from physical books to eTextbooks means you get the latest, most up-to-date version available. This also makes your training more accessible, so you can study anywhere you have your phone or tablet. The best part is that all materials are included in your training cost so there are NO extra fees for books!
Internet Connection
Broadband or High-Speed - DSL, Cable, and Wireless Connections
*Dial-Up internet connections will result in a diminished online experience. Classroom pages may load slowly and viewing large audio and video files may not be possible.
Hardware Requirements
Processor - 2GHz Processor or Higher
Memory - 1 GB RAM Minimum Recommended
PC Software Requirements
Operating Systems - Windows 7 or higher
Microsoft Office 2013 or higher. Also, you could use a general Word Processing application to save and open Microsoft Office formats (.doc, .docx, .xls, .xlsx, .ppt, .pptx)
Internet Browsers - Google Chrome is highly recommended


Cookies MUST be enabled
Pop-ups MUST be allowed (Pop-up Blocker disabled)

The Kindle Reader App or VitalSource Bookshelf App are needed for many of our courses (No special equipment needed. This can be downloaded for FREE onto your computer.)
PowerPoint Viewer (if you do not have PowerPoint)
QuickTime, Windows Media Player &/or Real Player
MAC Software Requirements
Operating Systems - Mac OS x 10 or higher with Windows
Mac office programs or a Word Processing application to save and open Microsoft Office formats (.doc, .docx, .xls, .xlsx, .ppt, .pptx)
Internet Browsers- Google Chrome is highly recommended


Cookies MUST be enabled
Pop-ups MUST be allowed (Pop-up Blocker disabled)

The Kindle Reader App or VitalSource Bookshelf App are needed for many of our courses (No special equipment needed. This can be downloaded for FREE onto your computer.)
PowerPoint Viewer (if you do not have PowerPoint)
Adobe PDF Reader
Apple QuickTime Media Player