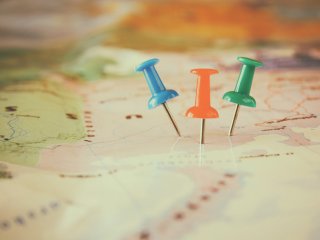 Description
Objectives
Outline
Materials
System Requirements
Watch a Demo
This course picks up where French I stopped, continuing in an exploration of the French and Francophone culture and language and building on the basic language skills of reading, listening, writing, speaking, and building an understanding of the French language. This class will focus on talking about how you spend your time, routines, relationships, food, and travel with basic vocabulary and grammar for building beginning French language skills. 
Recommendation: French I.
After completing this course, you should be able to:
Recall basic spoken French on familiar topics, using context to determine the meaning 
Recognize basic cultural differences in a variety of French and Francophone contexts
Identify vocabulary and verbs appropriate to converse about everyday topics such as activities, food/cooking, vacations, and travel
Recall how to use verbs correctly to talk about events in the past and future
Choose the correct parts of speech to give directions, talk about relationships, and express emotions
French II Module 1
Les Sorties: Compétence 1 and 2
À Paris
Une Invitation  
Les verbes vouloir, pouvoir, et devoir
Aujourd'hui et dans le passé
L'imparfait 
Les verbes sortir, partir, et dormir
French II Module 2
Les Sorties: Compétence 3 and 4
Une Sortie
L'imparfait et le passé compose
Les contes
Les Stagiaires l'Épisode 6
French II Module 3
La Vie Quotidienne: Compétence 1 and 2
En Bretagne
La vie de tous les jours
Les verbes réfléchis au présent
La vie sentimentale
Saying what people do for each other
Las verbes en - re
French II Module 4
La Vie Quotidienne: Compétence 3 and 4
Les activités d'hier
Les verbes réfléchis et réciproques au passé composé
Les verbes réfléchis et réciproques à l'imparfait et reprise de l'usage du passé composé et de l'imparfait
Les traits de caractére
Les pronoms relatifs qui, que et dont
Les Stagiaires l'Épisode 7
Comparaisons Culturelles: L'amour et le couple
French II Module 5   
La Bonne Cuisine: Compétence 1 and 2
La Cuisine Régionale
Au Restaurant
Talking about what you eat
Le partitif
Buying Food
Les Courses
Les expressions de quantité
Talking about foods
French II Module 6
La Bonne Cuisine: Compétence 3 and 4
Les Repas
Saying what you eat and drink
Le pronum en et le verbe boire
Talking about choices
Les verbes en -ir
La santé
Le conditionnel
Les Stagiaires l'Épisode 8
Comparaisons Culturelles: Á table
French II Module 7
En vacances: Compétence 1 and 2
La France d'outre-mer
Les vacances
Le futur
Recognizing compound tenses
Les Préparatifs
Les verbes dire, lire et écrire
Avoiding repetition
French II Module 8
En vacances: Compétence 3 and 4
Á l'agence de voyages
Les verbes savoir et connaître
Indicating who does what to whom
Les pronoms me, te, nous et vous
Un voyage
Les expressions géographiques
Les Stagiaires l'Épisode 9
Comparaisons Culturelles: La Culture Créole Aux Antilles
French II Module 9
Á ̀ l'hôtel: Compétence 1 and 2
Les Antilles
Le logement
Les expressions impersonnelle et l'infinitif
Chez le médecin
Les parties du corps
Giving advice to someone in particular
Les verbes irréguliers au subjonctif
French II Module 10
Á ̀ l'hôtel: Compétence 3 and 4 
Running errands on a trip
Les expressions d'émotion et de volonté et le subjonctif
Saying who you want to do something
Les indications
Telling how to go somewhere
Les Stagiaires l'épisode 10
Comparaisons Culturelles: La Musique Francophone
**Outlines are subject to change, as courses and materials are updated.**
Ed4Career is committed to being both environmentally conscious and making it easier for you to study! We're making your education mobile! All of our textbooks are now provided as eTextbooks. You can access them on your laptop, tablet, or mobile device and can study anytime, anywhere.
The move away from physical books to eTextbooks means you get the latest, most up-to-date version available. This also makes your training more accessible, so you can study anywhere you have your phone or tablet. The best part is that all materials are included in your training cost so there are NO extra fees for books!
Internet Connection
Broadband or High-Speed - DSL, Cable, and Wireless Connections
*Dial-Up internet connections will result in a diminished online experience. Classroom pages may load slowly and viewing large audio and video files may not be possible.
Hardware Requirements
Processor - 2GHz Processor or Higher
Memory - 1 GB RAM Minimum Recommended
PC Software Requirements
Operating Systems - Windows 7 or higher
Microsoft Office 2013 or higher. Also, you could use a general Word Processing application to save and open Microsoft Office formats (.doc, .docx, .xls, .xlsx, .ppt, .pptx)
Internet Browsers - Google Chrome is highly recommended


Cookies MUST be enabled
Pop-ups MUST be allowed (Pop-up Blocker disabled)

The Kindle Reader App or VitalSource Bookshelf App are needed for many of our courses (No special equipment needed. This can be downloaded for FREE onto your computer.)
PowerPoint Viewer (if you do not have PowerPoint)
QuickTime, Windows Media Player &/or Real Player
MAC Software Requirements
Operating Systems - Mac OS x 10 or higher with Windows
Mac office programs or a Word Processing application to save and open Microsoft Office formats (.doc, .docx, .xls, .xlsx, .ppt, .pptx)
Internet Browsers- Google Chrome is highly recommended


Cookies MUST be enabled
Pop-ups MUST be allowed (Pop-up Blocker disabled)

The Kindle Reader App or VitalSource Bookshelf App are needed for many of our courses (No special equipment needed. This can be downloaded for FREE onto your computer.)
PowerPoint Viewer (if you do not have PowerPoint)
Adobe PDF Reader
Apple QuickTime Media Player